Beki Probst, the grande dame of the international film world and outgoing president of Berlin's European Film Market (EFM), is to be the centre of a feature documentary with the working title Beki, which is being directed by the Swiss-born filmmaker Rebecca Panian.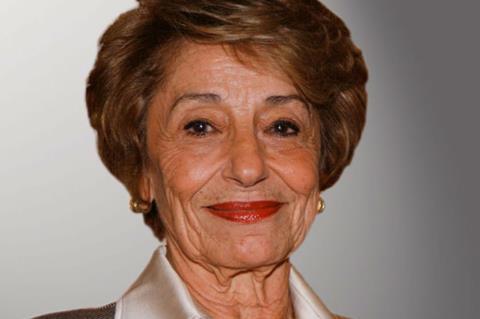 Speaking exclusively to Screen, Panian said that Zurich's Dschoint Ventschr is producing the project which has been in the making for the past three years. The idea for a film about Probst was proposed by her close friend Edi Stöckli.
"She is such an impressive woman for what she has done at the Berlinale over the past 30 years and I also want to show the next phase where she will attend a script writing course at the film school in Lausanne, Switzerland," Panian explained.
Panian had accompanied Probst to Jerusalem in 2015 for a memorial to the late Jerusalem Film Festival founder Lia Van Leer, "It was very emotional, I was there with my camera crying in the corner and Dieter Kosslick and Beki were on the stage crying."
This year will also see her travelling with Probst to Istanbul to meet childhood friends and speak with her daughter about Probst's early years in her native Turkey.
"The film is conceived as a journey into a past film world with Beki at the centre," she added.
Panian said that she hopes the film will be shown at festivals and then in cinemas in Switzerland and Germany.
Swiss filmmaker Panian has been making documentaries and fiction films since 2006 and her debut feature-length documentary Dying To Live won the audience award at the Zurich Film Festival in 2014.
Probst had spoken to Screen about the documentary following Wednesday's (Feb 14) public presentation in Berlin of Christian Jungen's biography of Moritz de Hadeln (Mister Filmfestival), Dieter Kosslick's predecessor in the post of Berlinale festival director from 1980 to 2001.
Past and present staff members of the Berlinale as well international industry figures such as Locarno Festival's president Marco Solari, the Berlinale's Asia consultant Norman Wang, Firpresci general secretary Klaus Eder, Molodist Festival's general director Andriy Khalpakhchi and Visions du Réel's president Claude Ruey were in attendance to hear de Hadeln recount numerous amusing and insightful anecdotes about his time as director of the festivals in Nyon, Locarno, Berlin and Venice.
Meanwhile, the current Berlin festival director Dieter Kosslick confirmed at the beginning of the presentation that his autobiography is in the works and would proceed swiftly this year "so that I can remember the names".