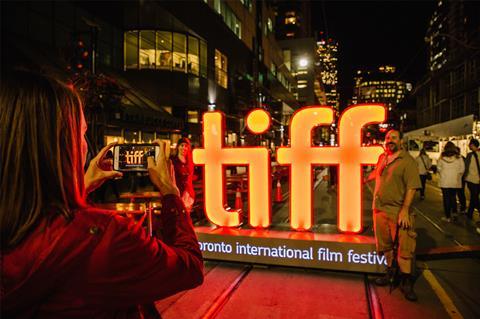 Leading international festival figures came together at a wide-ranging talk at the Toronto International Film Festival on Friday (September 6) to chew over challenges including representative line-ups, the loss of key venues and working with the streamers.
Cameron Bailey, artistic director and co-head of TIFF, Paolo Moretti, artistic director of Cannes' Directors' Fortnight, Mariette Rissenbeek, executive director of the Berlinale and Kim Yutani, the Sundance Film Festival's director of programming, quickly came to a consensus film is alive and well, and streaming companies and cinema exhibitors can easily complement each other.
Moretti suggested the streamers should respect the regulatory demands of local markets.
"There is a possibility to integrate this new evolution of film distribution without harming what is working very well in an effective way," he said. "It's about integrating the platforms into the existing system in terms of taxes. These are all issues that have to be regulated."
Bailey praised the impact Netflix and Amazon can have on arthouse films. "They have been influential in getting films to wide audiences," he said. "Films such as Houda Benyamina's Divines, or the work of Anurag Kashyap are available all over the world. The platforms offer opportunities that no one else can."
Diversity is a watchword on the lips of every film festival director. Yutani suggested the quick fix for festivals was to reflect diversity in their programming team. "For me, bringing in new programmers is the key to ensuring that your programme is diverse. I'm talking about a team with different backgrounds and life experiences."
Rissenbeek said the struggle to attract young audiences to cinemas in Germany is having an impact on the Berlinale. Key Berlinale venue the Sony Centre's CineStar cinema in Potsdamer Platz, is now under threat of closure. "We are not sure it will exist in February, and that is a big issue," she said. "Also, the main screening hall [Berlinale Palast] is a music hall, and securing that venue is problematic as well."
"The festivals themselves are healthy," TIFF's Bailey agreed. "But we depend on the commercial proposition of movie houses, and they are closing down."
New Sundance venture
Yutani revealed Sundance will launch an 'Art and Ideas' venue in 2020 in an effort to keep audiences engaged with cinema.
"We're working on creating a space towards the end of the festival to bring back the idea of art film and talking about art film," Yutani said. "Films such as Room 237 inspired me to think about what goes into making a film and the creative decisions made on a film set. It's about looking at what made me fall in love with films."
The festival execs were talking at a panel called 'Film Festivals: New Leadership, New Horizons' as part of the TIFF Industry Conference.