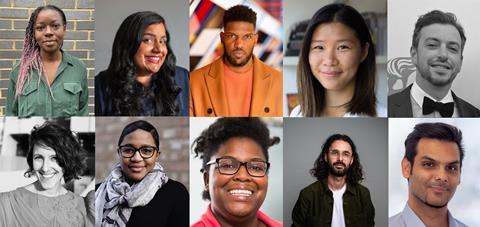 UK screen industries agency Film London has selected the 10 participants for the second edition of its Breaking The Glass Ceiling programme, which aims to support mid-level professionals from ethnically diverse backgrounds, and launches this month.
The programme, which initially ran in 2019, is organised by the agency's Equal Access Network, led by co-founder and director Jill Tandy, in association with the Broadcasting, Entertainment, Communications and Theatre Union (Bectu) and supported by the Mayor of London. Former Screen Star of Tomorrow and Rocks producer Ameenah Ayub Allen, plus founder of UK film exhibition company We Are Parable, Anthony Andrews, are among those selected.
See the full list below
A statement from Film London said: "Breaking the Glass Ceiling will not only help accelerate the career of the participants, but also provide them with the skills to support and develop others starting out in the industry, helping to retain crucial talent from entry and mid-level to senior and management roles."
Each participant will be matched with a leading industry mentor, and will also be paired with a new entrant mentee from Film London's Equal Access Network.
The programme is supported by Working Title Films and includes group training and networking, with top industry speakers participating including Waqas Ali (production HR at Netflix UK and EMEA), Daniel Battsek (director Film4), Mia Bays (director of BFI Film Fund) Rose Garnett (director BBC Film), Ian George (managing director at Sony Pictures Entertainment) and Krishnendu Majumdar (chair of Bafta).
Previous participants on the year-long scheme include former Screen Stars of Tomorrow, Netflix's director of UK features Fiona Lamptey and producer Yaw Basoah.
Breaking The Glass Ceiling 2021/22 participants
Anthony Andrews (Co-Founder of We Are Parable, content and events producer)
Ameenah Ayub Allen (producer Rocks, co-producer Ali & Ava)
Ross Bolidai (Documentary film director)
Ros Bomford (Factual/factual entertainment development producer)
Charlotte Cheung (International senior sales manager, STX International)
Hussain Casey-Ahmed (Production executive, Disney+)
Pamela Drameh (Senior international technical manager, STXInternational)
Susan Kulkarni (Costume designer)
Paida Mutonono (Head of development, Lammas Park)
Khurrum M. Sultan (Drama and documentary director)