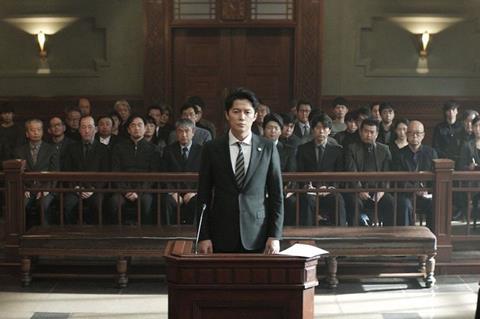 Film Movement has announced that it has acquired all North American distribution rights to Japanese director Kore-eda Hirokazu's The Third Murder.
The company plans to release the film theatrically next summer, with digital and home entertainment releases to follow. President of Film Movement Michael E Rosenberg and Eva Diederix, head of international sales for Wild Bunch, brokered the deal.
The Third Murder centres on elite lawyer Shigemori, who takes on the defense of aging ex-con Misumi who is facing his second murder charge. Shigemori's chances of winning the case seem low, as his client freely admits his guilt despite facing possible execution. But as he digs deeper into the case, the once confident attorney begins to doubt whether his client is the murderer after all.
The courtroom procedural screened at the 74th Venice Film Festival 22 years after Kore-eda's debut feature Maborosi screened in competition there. The Third Murder also screened at this year's Toronto International Film Festival.
Rosenberg said: "One of the most talented and visionary auteurs working today, Kore-eda continues to reinvent himself with each new film. Following our release of the powerful After The Storm, we're thrilled to again have the opportunity to represent such an original and talented artist."
In addition to The Third Murder, Film Movement has also recently acquired Felix Randau's Locarno award winner Iceman, Sergio Corbucci's spaghetti western The Great Silence for its debut North American release, Atsuko Hiryanagi's offbeat romantic comedy Oh Lucy!, and Oren Jacoby's documentary Shadowman.