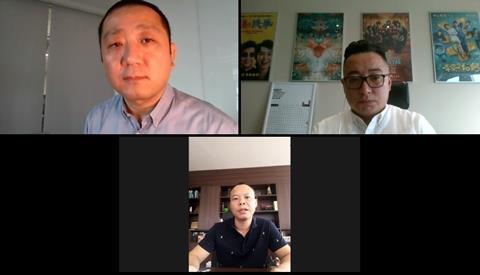 Hong Kong's Filmart Online (August 26-29) got underway today with two presentations that should give global content industries hope that market recovery is possible in the post-pandemic era.
By coincidence, the virtual market kicked off just one day after Chinese romantic drama Love You Forever had a record-breaking opening in China, grossing $39m on its opening day (August 25), and Hong Kong received confirmation that its cinemas would finally reopen this weekend.
In addition, Huayi Brothers' war epic The Eight Hundred has marched to $179m box office since it opened on August 21, despite the fact that cinemas are still required to operate at 50% capacity to comply with social distancing rules.
This news put the speakers on Filmart's "China Entertainment Forecast" panel, moderated by iiMedia Research Group CEO Jez Zhang, in an optimistic mood.
James Li, senior vice president of NCM Group, said the impact of Covid-19 on the mainland China film industry has been "much harder and wider than Sars in 2003", which he also experienced, but this week's figures proved that "movie-goers are willing to return to the theatres and that has encouraged producers and investors to continue to invest."
Both Li and Zhou Yuan, executive vice president of Linmon Pictures, said they expected the market to recover to 70-80% of pre-pandemic levels by the end of the year, with full recovery expected in 2021. "But of course that depends on how the pandemic develops, and how many new releases are available as many Hollywood and domestic blockbusters have been delayed by the virus, so that's why we're focused on the second half of next year," said Zhou.
Zhou also said that while the recent box office results are encouraging, the industry has been permanently changed by the pandemic, as online distribution has inevitably become a more important part of the planning process for most producers.
"Online platforms cannot replace the theatrical experience, but we need to be very conscious in deciding whether it makes sense to launch our productions online or offline," said Zhou. "Online can be complementary to offline, in the way that Disney is launching Mulan, we have to embrace the new trends. You need to look at the characteristics of your film and figure out the most suitable distribution and charging mechanism."
Earlier in the day, Vivek Couto, executive director of Hong Kong-based Media Partners Asia, gave a keynote about the growth of Asian SVOD platforms and content consumption patterns during Covid-19.
Asia Pacific streaming services are expected to gain more than 8.5 million paying subscribers during 2020, including nearly 3 million additional subscribers in Korea and more than 2 million in Indonesia. However, pricing per subscriber is decreasing to reflect market realities, with even Netflix launching cheaper mobile-only plans in many Asian markets.
Couto also said content investment by OTT platforms is expected to increase rapidly, especially in India where investment is estimated to grow from $600m in 2019 to around $1.1bn in 2022. With Netflix leading the way, content investment in Korea is expected to nearly triple from just under $200m in 2019 to nearly $600m in 2022.
However, Couto said box office recovery will lag behind China in many Asian markets, which would give OTT platforms a further advantage: "There's a potential for theatrical to consolidate and become more of a premium experience, while online can get a lot more movie products going forward. Theatrical in these markets won't replicate what it did in 2019 until 2022 or 2023. It will take time for the economics to be restored and in the meantime online will be seen as a significant opportunity."