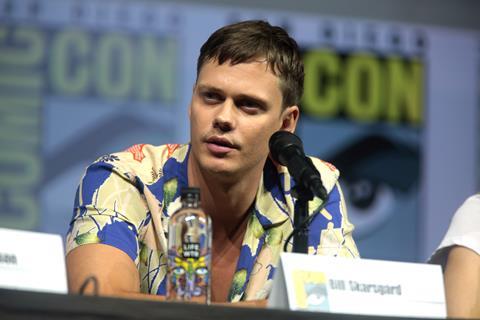 The Crow reboot package lived up to pre-market expectations and proved to be a standout from FilmNation's packed Cannes slate as heavyweight international buyers snapped up rights to the upcoming revenge thriller.
Bill Skarsgård from the It franchise and Deadpool 2 will star alongside British singer-songwriter FKA twigs for Rupert Sanders, whose directing credits include Snow White And The Huntsman, Ghost In The Shell and Foundation. Sanders will direct from a screenplay by Zach Baylin, the Oscar-nominated writer of King Rchard and the upcoming Creed III.
Closed deals include Entertainment Film for the UK, Leonine for Germany, Roadshow Films for Australia and New Zealand, Eagle for Italy, Nordisk for Scandinavia, California Filmes for Latin America, Tri Pictures for Spain, and Moviecloud for Taiwan.
In further trading, rights have gone for Middle East (Italia), Eastern Europe (Vertical), Benelux (WWE), Thailand (M Pictures), Malaysia (Square Box), Singapore (Shaw), Portugal (Pris), Switzerland (Ascot Elite), Greece (Tanweer), South Africa (Empire), India (PVR), Turkey (Yeni Bir), and Baltics (Acme).
Production is anticipated to begin in Europe this summer on the reimagining of the cult character based on James O'Barr's graphic novel. Alex Proyas directed the 1994 feature version about a man who returns from the dead to avenge his murder and that of his fiancée.
Producers are Molly Hassell, Victor Hadida – whose Metropolitan will distribute The Crow in France – as well as John Jencks, and Edward R. Pressman, who produced the 1994 original. CAA Media Finance represents US rights.
Sanders is represented by CAA, Grandview and Independent Talent Group. Skarsgard is represented by WME, Magnolia Entertainment and Hirsch Wallerstein. FKA twigs is represented by UTA.
FilmNation's Cannes slate includes Vatican conspiracy thriller Conclave to star Ralph Fiennes, John Lithgow and Isabella Rossellini; Woody Harrelson, Simu Liu and Djimon Hounsou in diver thriller Last Breath; Michael Keaton starring in and directing the noir Knox Goes Away; and Paul Greengrass-Benedict Cumberbatch peasant revolt drama The Hood.
As previously reported Apple snapped up worldwide rights during the market to sci-fi romance package Fingernails starring Riz Ahmed and Jessie Buckley.