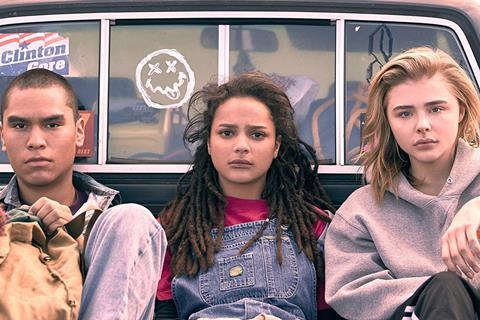 FilmRise has acquired North American rights to Desiree Akhavan's The Miseducation Of Cameron Post and will release theatrically this summer.
The film, starring Chloe Grace Moretz, John Gallagher Jr., Sasha Lane, Forrest Goodluck, and Jennifer Ehle, was awarded the U.S. Dramatic Grand Jury Prize at Sundance in January.
The feature is based on Emily M. Danforth's novel of the same title, and follows teenager Cameron Post through her experience at a gay conversion therapy centre.
Adapted for the screen by Akhavan and Cecilia Frugiuele, The Miseducation Of Cameron Post is produced by Michael B. Clark and Alex Turtletaub of Beachside, Frugiuele of Parkville Pictures, and Jonathan Montepare.
Executive producers are Akhavan and Parkville's Olivier Kaempfer. Beachside financed the film.
"With The Miseducation Of Cameron Post, Desiree has created a timely yet timeless, hilarious yet heartwrenching story," Danny Fisher, Filmrise CEO, said. "We are proud to bring this powerful film from a rising director to wider audiences, in a time when the story is as profound and pertinent as ever."
"In FilmRise we have found a passionate supporter driven to bring this important story to a wide audience, and we're excited to be collaborating and partnering with them on the release," the filmmakers said.
FilmRise negotiated the deal with UTA Independent Film Group and Endeavor Content.