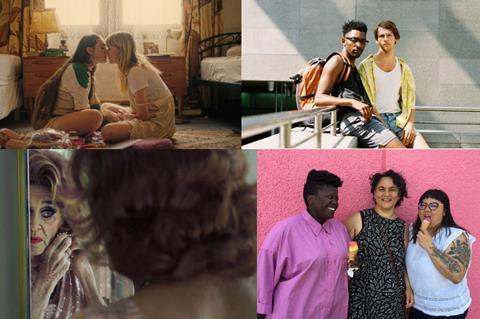 BFI Flare: London LGBTIQ+ Film Festival has revealed the programme for its 35th edition, which will take place virtually from March 17-28.
The festival has selected 26 features, which include four world premieres, six international premieres and one European premiere.
Scroll down for full list of titles
Receiving their world premieres are Peeter Rebane's Firebird, a love story set in the Soviet Air Force during the Cold War; Daniel Sánchez López's German feature Boy Meets Boy, about two young men who fall for each other over the course of a single day; and Alexa Bakony's Hungarian documentary Colors Of Tobi, which offers a portrait of a family grappling with teenage gender dysphoria.
As previously announced, UK documentary Rebel Dykes, from directors Harri Shanahan and Sian A. Williams, will also debut at the virtual festival. Bohemia Media has secured UK and Ireland rights to the film, which centres on a gang of lesbians in 1980s London that aimed to unite LGBTIQ+ communities against hostility and homophobia.
Titles receiving their international premieres include US drama Jump, Darling, the feature directorial debut of Phil Connell. The film centres on a drag queen reconnecting with his ageing grandmother and marks the final starring role for Cloris Leachman, who died on January 27.
BFI Flare will host virtual premieres, available to UK audiences on the BFI Player platform, and retains its strands – Hearts, Bodies and Minds – from the physical version of the festival. There will also be a free programme of virtual events, including BFI Flare Screen Talks with LGBTIQ+ filmmakers and cast.
Industry platform
The industry side of the festival has also shifted online and will focus on delegate networking. It will also include the 7th edition of the BFI Flare x BAFTA Crew Mentoring programme, which offers a group of emerging LGBTIQ+ filmmakers guidance from a senior industry figure, alongside a programme of masterclasses and discussions, and access to Bafta's year-round events programme.
Also returning is Five Films For Freedom, a partnership between the festival and British Council, which makes five LGBTIQ+ themed short films available worldwide to watch for free for the duration of the festival.
BFI Flare 2021
Aids Diva: The Legend Of Connie Norman
Dir: Dante Alencastre
Boy Meets Boy
Dir: Daniel Sánchez López.
Colors Of Tobi
Dir: Alexa Bakony
Cowboys
Dir: Anna Kerrigan
Cured
Dirs: Patrick Sammon, Bennett Singer
The Dose
Dir: Martín Kraut
Dramarama
Dir: Jonathan Wysocki
Enfant Terrible
Dir: Oskar Roehler
Firebird
Dir: Peeter Rebane
The Greenhouse
Dir: Thomas Wilson-White
I Am Samuel
Dir: Pete Murimi
Jump, Darling
Dir: Phil Connell
Kiss Me Before It Blows Up
Dir: Shirel Peleg
Mama Gloria
Dir: Luchina Fisher
My First Summer
Dir: Katie Found
No Ordinary Man
Dirs: Aisling Chin-Yee, Chase Joynt
The Obituary Of Tunde Johnson
Dir: Ali LeRoi
P.S. Burn This Letter Please
Dirs: Michael Seligman, Jennifer Tiexiera
Poppy Field
Dir: Eugen Jebeleanu
Rebel Dykes
Dirs: Harri Shanahan, Sian A. Williams
Rūrangi
Dir: Max Currie
Sublet
Dir: Eytan Fox
Sweetheart
Dir: Marley Morrison
Tove
Dir: Zaida Bergroth
Valentina
Dir: Cássio Pereira dos Santos
Well Rounded
Dir: Shana Myara