It has been a turbulent year for UK distribution veteran Alex Hamilton, who became CEO of Studiocanal UK in April 2020, early on in the Covid-19 pandemic.
With cinemas closed and production suspended, it was a challenging period to take up the reins. However, Hamilton's strategy is now beginning to come into focus.
The Railway Children Return, the first UK production made by the company since he arrived, has just finished shooting and post-production is now steaming ahead. The film, directed by Morgan Matthews and about the experiences of young evacuees during the Second World War, needs to be ready for an April 1, 2022 UK release date.
Hamilton, who spent 11 years with eOne's UK division including as managing director before departing the company in 2019, is full of enthusiasm for The Railway Children sequel. He describes the original, much-loved 1970 film as "one of the treasures" of the Studiocanal catalogue.
"Two or three weeks before I joined, [Studiocanal CEO] Anna Marsh sent me the script. Initially, I remember going, 'Hang on, a Railway Children sequel. Are we sure?' And then I read it and it was lovely and warm and positive."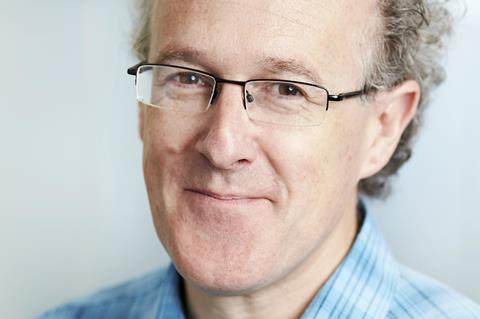 Hamilton was also pleased the sequel wasn't indulging in "nostalgic overkill". While the new film has echoes of its predecessor, he says it doesn't go over the top in trying to imitate it. The script was written by Daniel Brocklehurst, whose TV writing credits include Brassic, Netflix's Safe and Come Home; Jemma Rodgers produced.
The adult cast includes Sheridan Smith, Tom Courtenay and Jenny Agutter, who returns as Bobbie after playing the role in a 1968 BBC mini-series version as well as Lionel Jeffries' 1970 film. (This exclusive first-look photo also features the cast playing the new generation of Railway Children, from left to right: Beau Gadsdon, Eden Hamilton, Smith, Austin Haynes, Zac Cudby, KJ Aikens and Agutter.)
"We feel that we can make it a bit of a British event," Hamilton says of the decision to commit to a release date at the start of principal photography. When the project was announced, the UK media jumped on the story, underlining the lingering affection for the original. Hamilton talks of the "cut-through" in regional newspapers. One journalist commented that "we [in the UK] need this film's optimism".
"It finished shooting on Saturday [June 19] without being afflicted by Covid," Hamilton reports. The production had a momentary scare with a false-positive Covid test but that was quickly overcome as were the challenges posed by a wet UK summer.
Studiocanal has been praised for its marketing of previous UK-made films, in particular Paddington and Paddington 2, which were substantial box-office hits, grossing more than $500m worldwide between them.
"It would be foolish for me to suggest we can get an audience of that size for The Railway Children," Hamilton acknowledges. "We certainly haven't financed it based on it repeating Paddington's success."
Nonetheless, the Studiocanal team are confident the film can, at the very least, reach a sizeable UK audience.
On the Paddington front, Hamilton is coy about giving too much away regarding the third film featuring the marmalade-eating bear from darkest Peru. "All I will say is that there will be some exciting developments soon," he says, adding that there will be further announcements to come too on other UK-based productions.
Catalogue remakes and distribution
Hamilton and his team are making "a forensic analysis" of the huge Studiocanal catalogue, which includes everything from Ealing comedies to Basic Instinct, from The Third Man to Apocalypse Now, to look for other titles which can be successfully remade.
The catalogue is also continuing to grow. In April, Studiocanal announced it had acquired the rights to the Romulus Films catalogue which boasts 40-plus titles including John Huston's The African Queen and Jack Clayton's Room At The Top.
"What became clear to me in the last year is that the catalogue is a fantastic pillar for the company," says Hamilton. "It just churns. It provides revenues and a contribution to the group. Even when you don't necessarily have that new product coming through all of the time, you have this brilliant catalogue to fall back on."
One idea at "fairly advanced planning stage" is for an Apple online channel which will "bring the glories of the Studiocanal catalogue to that channel".
On the theatrical releasing front, Studiocanal has had to make some pragmatic decisions during the lockdown period. One was to allow Sky to release The Secret Garden day-and-date in cinemas and online last autumn.
"We are in a period of seismic change," Hamilton reflects on the way the distribution landscape has been affected by Covid and other factors. "Hardly any of us are going to sit in an office for five days a week again. The profound implications of that for the sector perhaps still haven't been fully figured out yet. Obviously, there's all the windows stuff. Obviously, there's the rise and rise and rise of the streamers."
However, Studiocanal still aims to have "significant number of titles a year that will go through a conventional exploitation sequence, where they are exclusive theatrically".
While the theatrical window is likely to become shorter, Hamilton hopes for "bespoke" solutions to suit different kinds of films.
"What will happen going forward is that you will need to agree some principles [between distributors and exhibitors]. Let's be honest – we are not going to be first in line to agree those principles with exhibitors. It is going to be the Disneys, the Warner Bros and the Universals of this world. We are in a way following in that slipstream."
Studiocanal's forthcoming releases Supernova and Another Round – scheduled for UK release on June 25 and July 2 respectively – will both have "a full theatrical window, 90 days of theatrical exclusivity. They're not huge P&As. They're not huge transactional movies. They are films that we hope people will want to see in cinemas – and we want to give people time to see them in cinemas."
However, on certain other future films, Hamilton suggests Studiocanal will decide, "you know what, perhaps we do need a 45-day window on this film because the transactional benefits are clear to see."
The way films are valued by buyers is changing. Projects being sold during this week's Pre-Cannes Screenings are no longer being assessed in quite the same way. "What used to be a massive, massive thing in terms of all your negotiations, particularly on bigger American movies, was that you would want some kind of US theatrical commitment and a full window. Clearly, that is not there anymore. That has to be factored in to how you value these films."
Studiocanal is very upbeat about the theatrical prospects for its new romantic drama The Last Letter From Your Lover, starring Felicity Jones and Shailene Woodley and based on a JoJo Moyes novel. The plan is to give the film a saturation release in the UK on well over 300 screens later this summer (August 6 is the scheduled date).
"It's an unabashedly romantic movie. I look at the release calendar this summer and don't see many of those," Hamilton says of a film he hopes will provide filmgoers with "the old-fashioned pleasures" of a big-screen weepie.
Earlier this month, Pathé UK confirmed a deal to release its films through Warner Bros. Would Studiocanal ever consider making a similar arrangement with a US studio?
"We are not thinking of that right now," insists Hamilton. The bigger challenge, he suggests, is to "put together a strong slate that can stand for itself and speak for itself. If you can do that, the hope is you can do the deals you need to. You've got to make yourself strong by getting the best content and putting it in front of all your partners."
Hamilton, meanwhile, is preparing for another landmark event. Next month, on July 19, he will finally be able to move into the Studiocanal offices in King's Cross after working from home for the best part of 15 months. Before then, he will spend a few days at the Cannes Film Festival in July.
"Part of that, frankly, is to meet some of my new colleagues whom I haven't actually physically met, although we've spent many hours on Zoom calls together."