The film recently won awards at HotDocs in Toronto.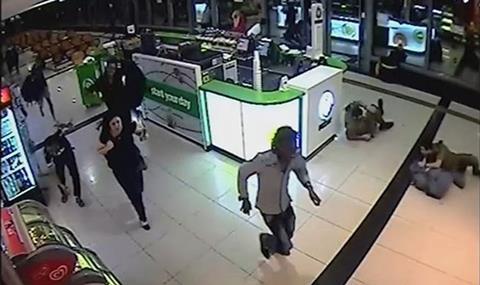 Topic, First Look Media's newly branded entertainment studio, will acquire US rights to Tali Shemesh and Asaf Sudry's Death In The Terminal.
The deal is being negotiated by Ryan Heller, vice-president of acquisitions for First Look Media, with CAA on behalf of the filmmakers.
On October 18, 2015, a terrorist armed with a gun and a knife entered a bus terminal in the Southern Israeli city of Beersheba. Using surveillance footage, cellphone cameras, and eyewitness and participant testimonies, the film presents a real-time account of the series of tragic events that unfolded over the ensuing 18 minutes.
The documentary won top prizes at the International Documentary Film Festival Amsterdam and Israel's Academy Awards.
"This film is a powerful portrayal of how storytelling shifts our perception of people, events and even our own preconceptions," Adam Pincus, First Look Media's executive vice-president of programming and content said. "Death In The Terminal is a perfect example of what we look for — it's provocative, artful filmmaking that challenges us to re-think how we look at the world."
Filmmaker Alma Har'el produced the film in partnership with YesDocu after discovering it at the Doc Aviv Film Festival.
Megan Ellison executive produced alongside Zero Dark Thirty producer Mark Boal via his Page 1 film and television production company.
Page1 president Hugo Lindgren said: "This is a powerful film that bears witness to the fear and paranoia of 'the other' that has gripped societies worldwide. These brave and talented filmmakers have made an important film, and Page 1 is proud to present it."
Har'el commented: "Tali Shemesh and Asaf Sudri masterfully question political and social climates that challenge our humanity and turn us against each other. This film is important to any citizen of the world today."
Directors Tali Shemesh and Asaf Sudry said: "This is a dream coming true and we couldn't imagine a better home for Death In The Terminal than with the First Look Media family. It's an honour to work with Mark Boal and Meghan Ellison who are filmmakers that challenge and inspire us to make films that matter."