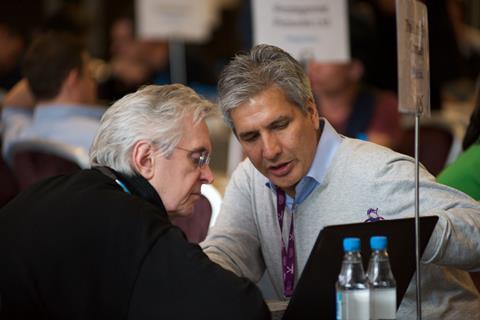 The first films hoping to secure further finance at the Production Finance Market (Oct 10-11) have been announced by Film London.
40 films in total will be pitched. The five films announced so far are:
Surge: starring Ben Whishaw, directed by Aneil Karia, produced by Julia Godzinskaya and Sophie Vickers (Rooks Nest Entertainment)
The Devil: directed is Tom Geens, produced by Zorana Piggott (011 Productions)
Eyes Wide Open: Directed is Rob Hardy, produced by Paul Raphael and Matthew James Wilkinson (Starfield Productions and Stigma Films)
Cranley Gardens: directed by Rafael Kapelinski, produced by Merlin Merton (Blue Shadows Films)
Science Of Love And Laughter: directed by Sam Barron, produced by Daniel-Konrad Cooper (Rather Good Films)
Taking place as part of the 2017 BFI London Film Festival, the PFM involves two days of 'speed dating'-style meetings for international producers and financiers.
Potential investors at this year's event include Bankside Films, Vertigo Releasing, Lionsgate UK and Pacific Mercantile Bank.
Number 9 Films' Elizabeth Karlsen has also been announced as the keynote speaker for this year's event on 10 October. She produced Carol, On Chesil Beach, Made In Dagenham and the upcoming Colette.
The PFM will also host a special LFF panel session with the filmmakers behind Journey's End.
This year the event's Micro Market strand, dedicated to features budgeted below €1m ($1,175,550), will showcase 20 films, including Dark Waters from Oscar an Emmy-nominated filmmaker Nick Read, and the Creative England-backed White Riot, which expands upon Ed Gibbs and Rubika Shah's Film London short of the same name.
The Micro Market strand will feature a mix of UK and international financier including Visit Films, MPI Media Group, Hanway Films and Goldfinch Entertainment.
The Production Finance Market is supported by the Mayor of London, the Department for International Trade and the BFI (awarding funds from the National Lottery). The Micro Market strand is supported by Creative Skillset.