New Europe Film Sales is representing the Bel-Swe-Nor-NL co-production.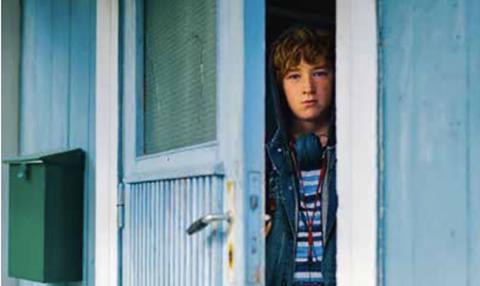 Cloudboy has won the Works In Progress award - which comes with an $11,000 (€10,000) prize - at Flanders Image's inaugural NeXT event. The story is about a Belgian boy who connects to his Swedish mother's Sami roots during a summer trip to Lapland.
An international industry jury said, "We really want to see the special world that director Meikeminne Clinckspoor has created. We thought producer Katleen Goossens was very well prepared with her presentation, and both she and Meikeminne also told us about the heart of the story not just the plot. The story is both original and universal and we think it will appeal to wide audiences."
Flanders Image had invited invited 13 projects in post-production – all backed by the Flanders Audiovisual fund — to pitch to the international industry in attendance.
The 13 projects in detail:
Blue Silence, wr/dir Bülent Öztürk, prod Tomas Leyers (Minds Meet)
This Turkish-language personal drama is about a man suffering from post-traumatic stress disorder in a military psychiatric hospital. When he is discharged, he tries to reunite with his family, which has an unsettled history. Ozturk's debut feature shot in Istanbul. Leyers said, "It's a politically charged film."
Contact tomas@mindsmeet.be
Cargo, dir Gilles Coulier, wrs Gilles Coulier and Tom Dupont, prods Gilles Coulier, Gilles De Schryver, Wouter Sap (De Wereldvrede)
When a father and fishing company owner is in a coma, his feuding sons have to take control of the company's future. The director, making his debut feature, says, "Cargo is a story about three brothers coping with the freedom created by the sudden absence of their father." He added, "it's about how desperation can bring a family to the edge of destruction." The film shot in Ostend and will be delivered in early 2017.
Contact: bram@dewereldvrede.be
Charlie & Hannah's Grand Night Out, wr/dir Bert Scholiers, prod Tomas Leyers (Minds Meet)
This absurd comedy about love and relationships is about two twentysomething women out on a drunken Friday night. Daphne Wellens and Evelien Bosmans lead the cast of this Antwerp-set feature, due for delivery in December 2016. Scholiers said he wanted to make a film "in the French and American tradition" and said the characters were like a "female Ratpack."
Contact: tomas@mindsmeet
Cloudboy, wr/dir Meikeminne Clinckspoor, prod Katleen Goossens (Bulletproof Cupid)
This family adventure, in Dutch and Swedish languages, shot in Belgium and Norway and will be delivered in January 2017. Niilas is an 11-year-old boy living with his Belgian father who goes to Lapland to reunite with his Swedish mother and her new family who live with the Sami, the indigenous reindeer-herding people. New Europe Film Sales handles international sales. Goossens said the target audience will be 8 to 12 year olds and their families.
Contact: jan@neweuropefilmsales.com
The Color of The Chameleon, wr/dir Andrés Lübbert, prods Frederik Nicolai, Eric Goossens (Off World)
This documentary is about a young man who became a guinea pig for Chile's secret service, trained to be a killing machine, but escaping to East Berlin. The filmmaker is the man's son who helps him confront the ghosts of the past. The film has shot in Belgium, Palestine, Berlin and Chile. Nicolai said it is "a creative documentary." Lübbert noted the "very personal" film had been five years in the making.
Contact: frederik@offworld.be
Dode Hoek, dir Nabil Ben Yadir, wrs Nabil Ben Yadir, Laurent Brandenbourger
& Michel Sabbe
, prod Eyeworks, Wrong Men, Antilope Joyeuse

This crime thriller, shot in Antwerp, Charleroi, Ghent, Brussels, is about a zero-tolerance drug commissioner who leads one last investigation on a drug lab. The film is set over 48 hours. Kinepolis will release in Belgium on Jan 25. Producer Peter Brouckaert said the story had "a lot of layers in it."
Contact peter.bouckaert@eyeworks.tv
Double Face, dir Jan Verheyen, wr Carl Joos, prod Eyeworks
This police procedural/serial killer thriller is based on a novel by Flemish crime writer Jef Geeraerts. The cast features Koen De Bouw, Werner De Smedt and Greg Timmermans
and the project is still shooting for an autumn 2017 delivery. In a video message, Verheyen said he had the "ambition to combine the best of American genre films with a European sensibility."
Contact peter.bouckaert@eyeworks.tv
The Prime Minister, dir Erik Van Looy, wrs Erik Van Looy and Carl Joo
s, prod Hilde De Laere

Loft director Van Looy said his new film is "a thriller with a soul." The Belgian Prime Minister is kidnapped and told he has to kill the US President to save his own family. Koen De Bouw
 leads the cast. The Works International handles sales and will screen the film for the first time at AFM. Clare Crean of The Works said, "The concept is utterly brilliant and in Eric we knew we had a director to trust."
Contact: Clare.Crean@theworksfilmgroup.com
Racer and The Jailbird, dir Michaël R. Roskam, wr Michaël R. Roskam, Thomas Bidegain, Noé Debré
, prod Bart Van Langendonck (Savage)
Bullhead and The Drop director Roskam offers a "love tragedy" or "amour noir" story starring Matthias Schoenaerts and Adèle Exarchopoulos as a gangster and race car driver, respectively. The film is set for delivery in early 2017 and Wild Bunch handles international sales. Van Langendonck showed still images and one scene from the anticipated film.
Contact: cbaraton@wildbunch.eu
Resurrection, wr/dir Kristof Hoornaert, prods Geoffrey Enthoven and Mariano Vanhoof (Fobic)
Hoornaert's debut feature is a drama about a hermit who takes a young man into his home; later it emerges the young man could be a murderer. Johan Leysen and Gilles De Schryver
 star. Hoornaert said "the film is about how to deal with the cruelty of man and civilization."
Contact: mariano@fobicfilms.com
Speechless, dir Hilde Van Mieghem, wr Hilde Van Mieghem and Bert Scholiers, prods Bo De Group and Frank Van Passel (Caviar)
Adapted from Tom Lanoye's bestselling novel, Speechless is about a literary icon whose life is turned upside down when his elderly mother has a stroke. Van Mieghem said, "this film is going to be a real emotional experience." It will be readied for a March 2017 release.
Contact: bram.sterckx@caviarcontent.com
El Tio, wr/dir Karen Vázquez Guadarrama & Bart Goossens, prod Tomas Leyers

This poetic documentary is about Argentina Mina, a remote Bolivian mining camp, and the miners working there. The film will be delivered later this year and is currently at final cut stage. Co-director Goossens noted the film is also about the miners' spirituality.
Contact: tomas@mindsmeet.be
Zagros, dir Sahim Omar Kalifa, wrs Sahim Omar Kalifa and 
Jean-Claude van Rijckeghem
, prod Dries Phlypo
The story follows a shepherd in a Kurdish village who defends his wife against accusations of adultery; they move to Belgium but can't escape family ties. This anticipated debut feature comes from Kalifa, whose shorts have been selected for 250 festivals.Global Screen handles sales and the film will be delivered for February 2017. CineArt will release in Benelux.
Contact: alice.buquoy@globalscreen.de
Flanders Image's NeXT is supported by ACE and Lites, and in association with Creative Europe Media Desk, Film Fest Gent, City of Ghent and Brussels Airlines, with media partners Le Film Français and Screen International.