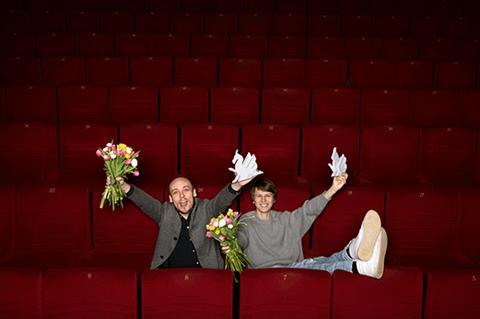 Swedish director Ronnie Sandahl's Tigers won the $48,000 (400,000 SEK) Dragon Award for Best Nordic Film at the Goteborg Film Festival.
The drama received its world premiere in Busan and tells of a Swedish teenager signed to a big Italian football club whose dreams turn into a nightmare.
Wild Bunch handles sales on the Sweden-Italy-Denmark co-production.
The jury, comprised of Swedish producer Anna-Maria Kantarius, New Zealand-Denmark director Daniel Josef Borgman, and Finnish producer Max Malka, said Tigers "gives a rare glimpse into a world many wish to enter, but only a few will be admitted. We chose to award the film that made us feel and root for the main character in every situation, whether chasing their dream or giving it up in order to survive and become happy".
The Dragon Award for Best Nordic Documentary – worth $30,000 (SEK 250,000) – went to Jonas Poher Rasmussen for Flee, which won Sundance's World Cinema grand jury prize: documentary.
Goteborg's gender-neutral acting award went to Erik Enge who plays the young footballer Martin in Tigers.
The Audience Dragon Award for Best Nordic Film went to Another Round by Thomas Vinterberg.
The award for best international film, decided by the Goteborg audience, was Quo Vadis, Aida? by Jasmila Zbanic
In other awards, the Ingmar Bergman International Debut Film prize went to Mama by China's Li Dongmei; Critics' group FIPRESCI awarded its prize to Ninja Thyberg for Pleasure; the Sven Nykvist Cinematography Award went to Linda Wassberg for Tove; the Dragon Award for Best Swedish Short went to The Expected by Carolina Sandvik; and the Angelos Award from the Church of Sweden went to Magnus von Horn for Sweat.
As previously reported, the Nordic Honorary Dragon Award went to Swedish director Ruben Östlund, who also gave a career talk at the festival.
The festival was held online due to the pandemic, but its Isolated Cinema initiative garnered substantial attention globally. The festival sent one lucky film viewer, Swedish nurse Lisa Enroth (who was selected from 12,000 applicants) to a deserted island to watch films from the programme alone for one week.
The event also offered one-person film screenings at two venues in Göteborg.