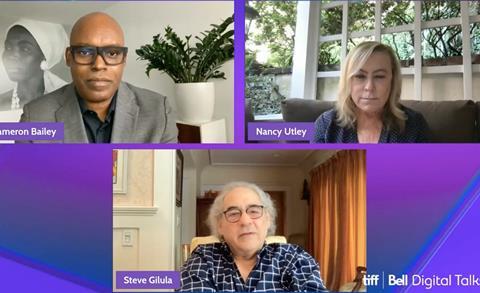 Former Searchlight Pictures co-head Steve Gilula has said the role of festivals may be more important than ever to showcase smaller films and emerging filmmakers amid the "firehose" of content created by streaming platforms.
Gilula made several observations on the new order and noted how the "gigantic cheques from Amazon and Netflix" had rendered the traditional acquisitions strategy "obsolete" and were reaching "distorted and irrational" levels.
The industry veteran's comments came during Thursday's opening day online Visionaries session as part of the TIFF Industry Conference programme in which Gilula and longtime colleague and former Searchlight co-head Nancy Utley – the pair announced their retirement earlier this year – looked back on their careers in a wide-ranging talk moderated by TIFF artistic director and co-head Cameron Bailey.
Gilula's comments on streaming were the most forceful of the session and reflected the changing nature of the industry. Recalling all-night bidding wars for Searchlight hits Thank You For Smoking [Toronto 2005], Little Miss Sunshine [Sundance 2006] and Napoleon Dynamite [Sundance 2004] he noted how tenacity was an integral part of the company's success.
"It was very important in our early days [to acquire aggressively]. If you go into it you've got to be committed to win and we don't like to lose," said Gilula. "We were really good at it, highly successful with a good track record, until the gigantic cheques from Amazon and Netflix came in and they've turned that upside-down.
"These acquisitions, without going into names, some of the films that went for 20 or 30 million [dollars] last year during the pandemic that they thought had awards potential – those values are completely distorted and irrational. Our old model is obsolete now." He added that the company pursued Kenneth Lonergan's Manchester By The Sea [which earned Oscars in 2016 for lead actor Casey Affleck and Lonergan's screenplay] but was unable to compete with the buying power of Amazon Studios.
The night TIFF programmed The Wrestler and Slumdog Millionaire at the same time
Utley recalled the pressure of running from The Wrestler to Slumdog Millionaire screenings at TIFF 2008. The Searchlight team was eager to see Darren Aronofsky's Golden Lion The Wrestler, which had arrived from Venice on a tide of rave reviews. They also wanted to enjoy their recent acquisition Slumdog Millionaire from Danny Boyle. The challenge was that TIFF had programmed both to start at the same time. "It was very stressful," she said. Searchlight acquired The Wrestler later that night and it went on to earn four Academy Award nods. Slumdog won the TIFF audience award and rouned out the awards season with eight Oscars including best picture.
"I'm very concerned and the role of festivals may be more important than ever in allowing new filmmakers to get some kind of recognition," said Gilula. "Netflix has proudly announced 42 new movies between now and the end of the year. How does a little movie ever get found? How does a new filmmaker ever get recognition, so that's a change that really worries me in terms of what the future is for cinema. Content is a firehose."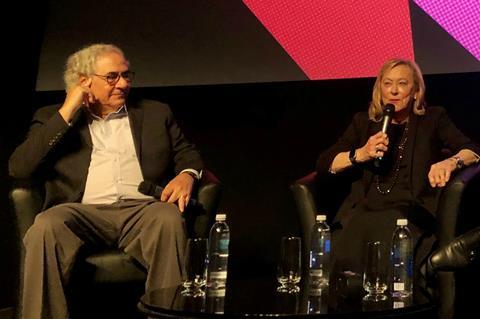 Utley joined the marketing team at what was then called Fox Searchlight in the late 1990s and worked alongside president Peter Rice. She was promoted to head of the department in 1999 and a short while later Gilula joined after co-founding Landmark Theatres in 1974 and building expertise in distribution over several decades.
On their first joint trip to Cannes in 2002 the team acquired Gurinder Chadha's Bend It Like Beckham featuring breakout Keira Knightly. Gilula had seen it in a cinema in London's Soho, aware that every US buyer had passed on it at the AFM because nobody saw value in what they regarded as a girls' football film bearing the name of a little-known footballer in the title. Gilula saw it as "a girls' friendship movie and a family, father-daughter movie" and persuaded his colleagues to attend the first market screening in Cannes, where they snapped up western hemisphere rights. The film went on to gross $30m in the States.
They had taken a similar bet on Jonathan Glazer's heist thriller Sexy Beast a couple of years prior. "Those early successes that earned us independence," said Gilula. "When we got Napoleon Dynamite our colleagues at Fox shook their heads and said, 'We have no idea what you're doing. Good luck'."
After Rice left in March 2009 the pair became Searchlight presidents. They have worked on 167 films together, and under their joint tenure Searchlight films have generated $5.3bn worldwide, won 43 Oscars and 47 Baftas, and claimed four best picture Oscars in the last eight years – 12 Years A Slave (2014), Birdman (2015), The Shape Of Water (2018), and Nomadland this year.
"It was very serendipitous," said Gilula. "We had the framework of a global company [behind us]. We were given time to build it up. Over the last 10 or 15 years we had an incredible stable, passionate group of people who were like-minded. We don't all love every movie but we're professional [regardless] of how the film came out. So we were all in it together. None of the other companies had that. They hired someone who had a reputation or came from another company thinking, 'Ah, they know'. Nancy and I knew what we knew. We didn't want to do each other's jobs. We wanted to collaborate and we expanded that collaboration across a great team."
Utley added, "We would involve 20 or so people from the company that were reading the script and having a full round-the-room discussion including very junior people because we didn't want the slate to reflect just our taste because we come from a certain place, we're white, we're Midwesterners, we're of a certain age, and we needed different viewpoints and we were excited to hear them."
The executives, both born in Illinois, said they have spent their careers until now following gut instincts, canvassing colleagues and taking risks. "The Shape Of Water comes to mind," said Utley. "A few of us went to Guillermo del Toro's home in Los Angeles, which is called Bleak House and full of memorabilia and collectibles and this juiciest imaginable place. Guillermo pitched The Shape Of Water to us without a script or treatment about this fish-like creature who's in a romance with another person and there's sci-fi and danger. Guillermo's the most charismatic and persuasive person in the world and we walked out there saying, 'I think we just greenlit this movie'.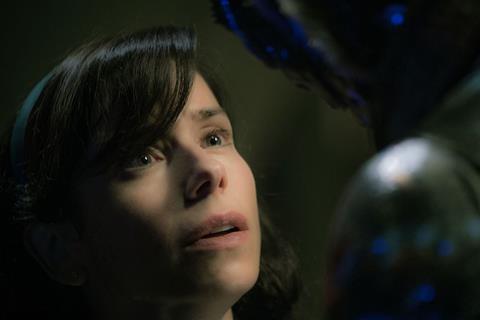 "We'd call them filmmaker bets" she continued. "You have these men and women who you believe in who have shown what they can do. Even though some of the ideas sound wacky, it's a belief in that person, that artist, and the group of artists they're going to bring together to make something that makes sense in the end."
Gilula concurred, adding that he became obsessed with originality and even though he did not completely "get" Alejandro Gonzalez Inarritu's Birdman script he knew it was original and wanted to try it. (The film went on to win best director, film, screenplay and cinematography Oscars in 2015). It was the same with Benh Zeitlin's Beasts Of The Southern Wild, which earned four Oscar nods in 2013.
They credit the independence of Searchlight to the wisdom of parent company Fox, particularly at a time more than a decade ago when every major studio was launching ill-fated speciality divisions. "The way Searchlight was formed, we were given a lot of rope to hopefully do well, if not we would hang ourselves, but it was our show," said Utley. "We did report to people but we were given a lot of autonomy and that was missing in some of the other scenarios."
"Senior management [at the big studios] didn't really understand what it took [to have a division like Searchlight]," noted Gilula. "They didn't understand the marketplace, they didn't understand the movie." He recounted how after Warner Independent Pictures acquired Slumdog Millionaire the management at Warner Bros didn't get it. Danny Boyle's producer and his agent were able to get Searchlight on board as a partner and distributor and the film went on to earn huge success, grossing $141m in North America and $378m worldwide on top of its Oscar haul.
Turning to awards the pair said they earned their track record through hard work. "Every film is different and you have to find the right way or even determine if it's the right time for that film," said Utley. She added that on Steve McQueen's 2014 best picture Oscar winner 12 Years A Slave the notion for the "It's time" legend on the marketing materials meant several things. "It's time for Solomon Northup [the author of the autobiographical source material] to be free, it's time for things to change, it's time for people to own up to this history, and it's time that Black filmmakers and actors are recognised in the way they should be, so why not in this film. We try to think of a narrative for each film that explains, 'Why this year, why am I voting for you?'"
Gilula noted the studio almost never made or acquired a film to win awards – "That's crazy" – with the one exception of Scott Cooper's Crazy Heart starring Jeff Bridges, who won the Oscar for lead actor in 2010.
"I'll never get over Paul Giamatti not getting nominated for Sideways," he said, after commenting earlier that the losses were as impactful on him as the wins."
"That's another show," quipped Utley.