EXCLUSIVE: Jon Hamm, Lois Smith, Geena Davis, and Tim Robbins star in the sci-fi drama.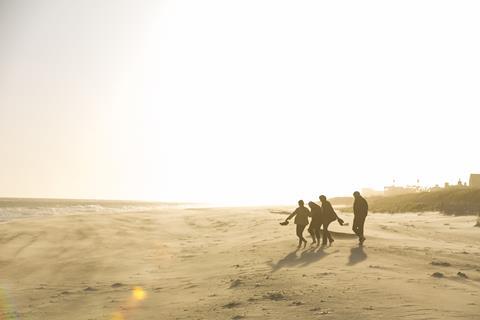 Los Angeles-based Fortitude International will introduce Marjorie Prime to international buyers in Berlin next month.
Michael Almereyda, whose Experimenter premiered in Sundance 2015, directs the adaptation of last year's Pulitzer prize-nominated play by Jordan Harrison starring Smith in the title role.
Uri Singer of Experimenter producer BB Film Productions produced the film, which is currently in post-production.
Marjorie Prime centres on an aging violinist with deteriorating memory who hires a service that provides holographic recreations of deceased loved ones.
In this way she is able to spend time with her daughter and son-in-law and an imperfect copy of her late husband as he looked in his 30s and 40s. John Sloss of Cinetic Media handles US rights.
"The cast of Marjorie Prime – Tim Robbins, Geena Davis, Jon Hamm and Lois Smith – deliver exceptional performances in this film," said Fortitude co-founder Nadine de Barros.
"Michael Almereyda has perfectly captured this award-winning cast and has adapted this acclaimed play into a beautiful and heartfelt film that we are excited to bring to the international marketplace."
Fortitude's pipeline includes comedy The Brits Are Coming with Uma Thurman, Tim Roth, Stephen Fry, Sofia Vergara, Parker Posey and Alice Eve, and Vincent-N-Roxxy with Emile Hirsch and Zoe Kravitz.
The comedy Drunk Parents starring Alec Baldwin, Salma Hayek and Joe Manganiello is currently in production. In pre-production are Tom's Dad with Will Ferrell set to star, J.K. Simmons in The Bachelors and sci-fi thriller Android with Olga Kurylenko.