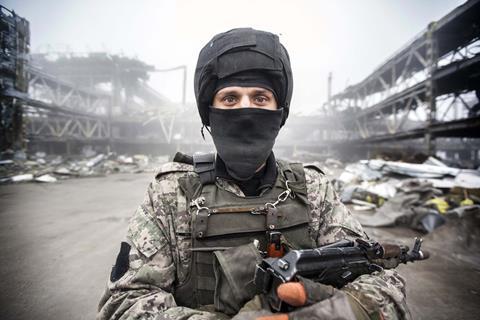 Flanders Image's CONNeXT event in Ghent showcased documentary films for the first time, some of which impressed industry professionals even more than the usual fiction projects.
Pieter Jan De Pue's Four Brothers, about four Ukrainian siblings torn apart by war, won the work-in-progress award.
The international jury praised how "the story ambitions and scope of the project leaves an undeniable impression…how war can tear apart even the tightest of bonds."
Bart Van Langendonck of leading Belgian production company Savage Film (Bullhead, Patrick) produces. The project previously won the CPH:DOX Eurimges Co-Production Award.
Another doc, Janet van den Brand and Timothy Wennekes' What Makes Us Boys, received a special mention. It tells the story of two brothers, one struggling with a rare disease and the other a boy born in a female body. The jury praised the "directors' respect for the young protagonists…. and the power of cinema for sheer beauty and poetry."
The best pitch award for series went to The Vatican, a six-part documentary series presented by Rik Torfs and directed by Kat Steppe.
Although it didn't take home a prize, a third documentary – Eva Kupper's Dark Rider – was praised for its huge international potential. The film is about blind professional motorcyclist Ben Felton who is mentored by MotoGP legend Kevin Magee.
TV series and pitch awards
The series work in progress award went to the second season of Undercover, a drama series which the jury praised for its "strong international appeal, emotional resonance, high production value, strong characters and highly entertaining [footage]."
A special mention went to the second season of supernatural crime drama series Beau Sejour.
The best pitch award for features went to Robin Pront's Zillion, which the jury said had "international appeal across different generations."
Pront is best known for The Ardennes and is in post-production on The Silencing for XYZ Films. Hilde De Laere produces Zillion for FBO (The Prime Minister, The Day).
The film is inspired by the true story of the rise and fall of nightclub owner Frank Verstraetenin in 1990s Belgium. The €6m project has sales companies circling and shooting will begin in spring 2020.
Buzz titles
The industry audience was also bullish on the works-in-progress presentation of Lieven Van Baelen's debut feature Rookie, produced by Eurydice Gysel and Koen Mortier at Czar.In-demand actor Matteo Simoni stars as a man who has to choose between his family and glory as a motorcycle racer. Dutch Filmworks' new sales division, headed by Charlotte Henskens, handles international sales.
Veerle Baetens, one of Belgium's top actresses and star of The Broken Circle Breakdown, will make her directorial debut with The Melting, adapted from the bestselling novel by Lize Spit. Van Langendonck produces and the film will shoot in summer 2020. The story follows Eva, a woman returning to her home village 13 years after a painful summer, with a block of ice melting in the boot of her car.
Another impressive pre-production pitch was Dreambaby, the story of a 14-year-old drug dealer who meets a famous older actor. It will mark the debut feature of actor/writer Jeroen Perceval and will be produced by Van Langendonck and Sarah Marks. The cast will feature Ben Segers and Veerle Baetens.
Hot talents Adil El Arbi and Bilall Fallah, in Los Angeles finishing Sony's Bad Boys For Life, will return to Belgium for Kawasaki, their story of a mother trying to rescue her sons from joining Isis. Caviar, which recently produced Toronto hit Sound of Metal, leads the production.
Le Ciel Flamand director Peter Monsaert also presented a confident pitch for L'Incconu(e), about a man with his own demons whose life is changed by a homeless teenager. Veteran Jan de Clercq and Annemie Degryse will produce for Lunanime.
The industry attendees were also charmed by the pitch for Michael Van Ostade and Andrew Van Ostade's Lilith & The Ghastly Brothers, a family adventure sold by Dutch Features Global Entertainment and produced by Tomas Leyers for Minds Meet, whose credits include Bas Devos' Cannes 2019 selection Ghost Tropic.
TV works in progress highlights included the fat camp comedy-drama Albatros; wine-crime drama A Good Year; female-centric drama Red Light, starring Carice van Houten; and political thriller Blackout; plus, at project stage, female buddy comedy F*** You Very, Very Much, written by Bert Scholiers.
At past editions of CONNeXT, international visitors were impressed by films presented as works in progress such as Lukas Dhont's Girl, which won the Camera d'Or at Cannes in 2018, and Tim Mielants' Patrick, which picked up prizes at this year's Karlovy Vary and Fantastic Fest.
Flanders Image announced that this fourth edition of CONNeXT will be the last in Ghent as the fifth edition in 2020 will be hosted in Antwerp for the first time.