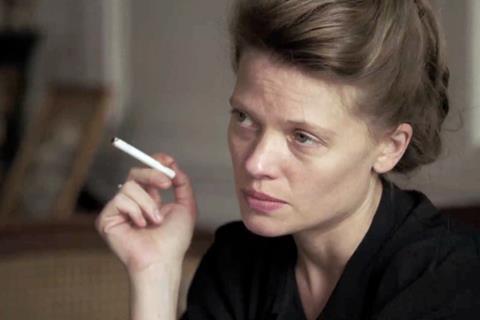 Memoir Of War (La Douleur) will represent France in the best foreign language category at the 91st Academy Awards next year, the country's National Cinema Centre (CNC) announced on Friday (September 21).
Emmanuel Finkiel's drama stars Mélanie Thierry and is inspired by French writer Marguerite Duras' account of her husband Antelme's return from the Dachau concentration camp after the Second World War.
Prior to Antelme's arrest in 1944, Duras had embarked on an affair with Dionys Mascolo, however she continued living with her husband until he recovered his health. Antelme wrote the book The Human Race about his experiences in Germany.
Memoir Of War premiered at San Sebastian Film Festival in 2017 under the title La Douleur / Memoir Of Pain where Thierry won critical acclaim for her performance as Duras. TF1 Studio handled international sales and Music Box distributed in the US earlier this year as Memoir Of War.
Memoir Of War was among five titles on France's submission short-list alongside Gaspar Noé's Climax, the late Claude Lanzmann's last film The Four Sisters, Emmanuel Mouret's Mademoiselle de Joncquières, and Xavier Legrand's Venice 2017 selection Custody.
This year's selection committee included Teresa Cremisi, president of the CNC's advance on receipts commission, director Claire Denis, Cannes delegate general Thierry Frémaux, filmmaker and actress Nicole Garcia, producer Isabelle Madelaine, César Academy president Alain Terzian and Serge Toubiana, president export body Unifrance.
France is one of the most successful countries in the history of the foreign-language award. It won three honourary awards prior in 1949, 1951 and 1953 prior to the introduction of the current system, and since then has earned 37 nominations and nine victories from 62 submissions. The last win came in 1993 for Régis Wargnier's Indochine, and the last nomination in 2016 for Deniz Gamze Ergüven's Mustang.