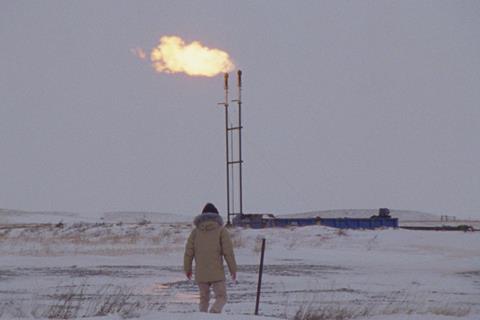 Frances O'Connor's feature directorial debut Emily will open 2022 Toronto International Film Festival's (TIFF) Platform, the competitive section championing bold visions which also includes Hawa from French director Maïmouna Doucouré.
Emily charts the romantic life of Emily Brontë in the lead-up to her classic novel Wuthering Heights. Hawa, the follow-up to Doucouré's 2020 Sundance and Berlin entry Cuties, centres on a teenage girl who sets off to get adopted by one of the most powerful women in the world.
The 10 Platform selections feature Subtraction from Iranian filmmaker Mani Haghighi, the 2012 Berlin Netpac Award winner for Modest Reception; How To Blow Up A Pipeline (pictured) from Daniel Goldhaber, director of 2018 Frightfest and BFI London Film Festival horror Cam; and Tora's Husband from Rima Das, whose 2017 festival favourite Village Rockstars launched at TIFF and was India's Oscar submission.
Rounding out the section are two from Canada – Anthony Shim's Riceboy Sleeps and Stéphane Lafleur's Viking – as well as Carmen Jaquier's Swiss drama Thunder and feature debutantes Carolina Markowicz with Charcoal and Cédric Ido with The Gravity.
"We launched Platform to shine a brighter light on some of the most original films and distinct voices at our festival," said Cameron Bailey, TIFF CEO. "Now in year seven, it's become a true home for international auteurs on the rise."
Named after Jia Zhang-ke's groundbreaking second feature, Platform is curated by TIFF chief programming officer Anita Lee; director, festival programming Robyn Citizen; and senior manager, festival programming Ravi Srinivasan.
"Eclectic in vision, this year's selection not only represents all world premieres of exciting, on-the-rise voices from around the world, but it also reflects the very timely and unique perspectives of racialised filmmakers from diasporic communities broadening the canvas," said Lee.
The 10 features are eligible for the $20,000 CAD Platform Prize selected by an in-person international jury to be announced later this summer.
Previous Platform selections include Hany Abu-Assad's Huda's Salon (2021), Kamila Andini's Yuni (2021), Darius Marder's Sound Of Metal (2019), Alice Winocour's Proxima (2019), Kazik Radwanski's Anne At 13,000 Ft. (2019), Sarah Gavron's Rocks (2019), Armando Iannucci's The Death Of Stalin (2017), Pablo Larraín's Jackie (2016), Barry Jenkins' Moonlight (2016), William Oldroyd's Lady Macbeth (2016) and Ben Wheatley's High-Rise (2015).
Platform's full 2022 line-up appears below. All selections are world premieres.
Charcoal (Braz-Arg)
Dir. Carolina Markowicz
Emily (UK-Aus) (opening film)
Dir. Frances O'Connor
The Gravity (Fr)
Dir. Cédric Ido
Hawa (Fr)
Dir. Maïmouna Doucouré
How To Blow Up A Pipeline (US)
Dir. Daniel Goldhaber
Riceboy Sleeps (Can)
Dir. Anthony Shim
Subtraction (Iran-Fr)
Dir. Mani Haghighi
Thunder (Switz)
Dir. Carmen Jaquier
Tora's Husband (India)
Dir. Rima Das
Viking (Can)
Dir. Stéphane Lafleur
TIFF runs September 8-18. Last week the festival announced its galas and special presentations.