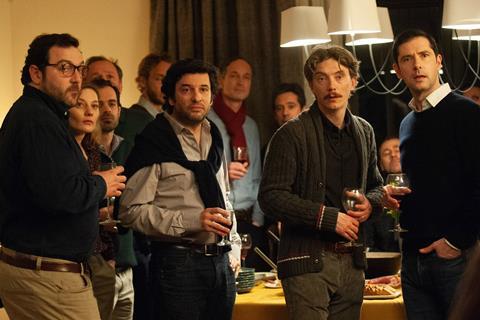 French sales company Playtime has sealed a flurry of deals on François Ozon's drama By The Grace Of God, inspired by a sexual abuse scandal in France involving the Catholic Church, ahead of its world premiere in Competition tonight (Feb 8).
In Europe, the film has sold to Benelux (September Film), Switzerland (Filmcoopi), Austria (ThimFilm Group), Germany (Pandora), Spain (Golem), Greece (Filmtrade), Italy (Academy 2), Denmark (Camera Film), the rest of Scandinavia (Edge Entertainment), Hungary (Vertigo), the Baltics and Russia (A-1), Poland (Against Gravity) and ex-Yugoslavia (Fivia). Elsewhere, it has sold Turkey (Bir Film), Canada (mk2/Mile End), Australia (Sharmill Films), Latin America (California Filmes) and Japan (Kino Films).
Melvil Poupard, Denis Ménochet and Swann Arlaud co-star as three men who band together to "lift the burden of silence" surrounding their abuse by a family priest when they were children after they discover he is still working with youngsters years later. The inspiration for the film came to Ozon after he came across the case of Father Preynat, a Catholic priest in the French city of Lyon who was indicted in 2016 for sexual assault. More than 70 alleged victims have been identified by investigators.
Playtime co-head Nicolas Brigaud-Robert reported a warm response to the film from buyers after a private screening in Berlin ahead of tonight's premiere. "For many, it was an unexpected film for Ozon. Many commented on how Ozon gets close to the emotions of the characters in a way he hasn't in previous films. This film is very emotional, very touching," said Brigaud-Robert.
Ozon was last in Berlin Competition in 2009 with fantasy tale Ricky, having got his first A-list festival Competition break at the festival in 2000 with Water Drops On Burning Rocks.