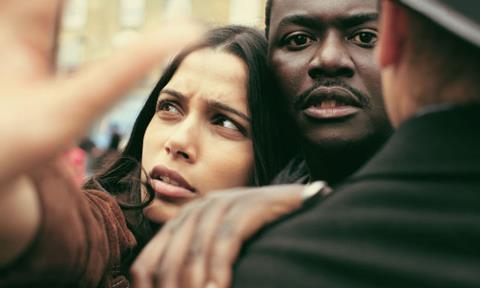 BRON Studios has come on board to produce Oscar-winning writer John Ridley's sci-fi Needle In A Timestack, which Freida Pinto (pictured in Ridley's Guerrilla) and Orlando Bloom have joined.
Leslie Odom Jr. and Cynthia Erivo have also joined the cast of the story about a couple who try to hold their marriage together in a world where time travel is possible.
Ridley, who won the adapted screenplay Oscar in 2014 for 12 Years A Slave, is adapting the screenplay from a short story. Zanne Devine, David Thwaites, BRON'S Aaron L. Gilbert, and Matt Kennedy.
Jason Cloth of Creative Wealth Media, Christopher J. Conover, Hope Farley and Ridley are executive producers.
Ridley is also lined up to direct an adaptation of his graphic novel series The American Way for Blumhouse.
BRON is currently in production with New Line on Bill Condon's The Good Liar starring Ian McKellen and Helen Mirren. The company recently wrapped production on AL Capone biopic Fonzo, Villains starring Bill Skarsgård and Maika Monroe, and Sony's Tom Hanks drama Greyhound.