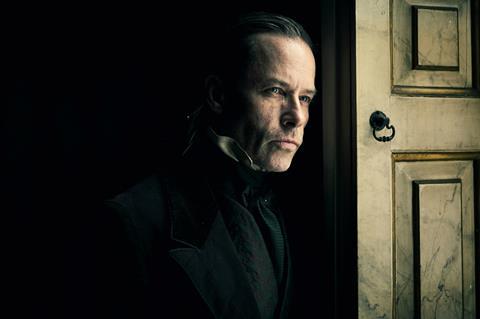 US cable network FX is set to increase its output of original programming under new owner Disney but will "remain measured in our approach," according to network chief John Landgraf.
Introducing FX series including A Christmas Carol (co-produced with the BBC) and Breeders (originally a BBC co-production, now set for Sky) at the Television Critics Association (TCA) press event in Los Angeles, FX Networks and FX Productions CEO Landgraf insisted his network will maintain its "curatorial filter" because "we believe that the filter of a brand will become even more valuable to consumers as they struggle to navigate the deluge of programme offerings in the peak TV era."
Speaking to Screen after his TCA session, Landgraf said the BBC – which also has a deal to screen FX series in the UK - remains an important production partner: "When we look for quality as we define it, it's just there in the UK in particular," he said. "I find their taste in creators and writers and material exquisite."
Landgraf pointed to the importance of Disney's backing for FX as the cost of high-end TV production continues to climb. "When I look at how much we're investing in shows and individual episodes it's really much more significant than it was a few years ago," he said. "Having a deeper-pocketed owner only helps us."
As well as A Christmas Carol and Breeders, FX used its TCA day to show clips from Devs, its upcoming sci-fi series from creator Alex Garland which is produced by Andrew Macdonald's UK outfit DNA Productions.
American Crime Story
The network also announced the third instalment of Ryan Murphy's award-winning American Crime Story anthology series, which will tell the story of the scandal that led to impeachment proceedings against former US president Bill Clinton.
Impeachment: American Crime Story will focus on the women involved in the scandal and will have Monica Lewinsky among its producers. The series will premiere on September 27, 2020, just over a month ahead of the next US presidential election.
Landgraf faced questions at the TCA about the timing of the premiere and whether the series might influence voters in the election.
The network head insisted the third series of the Emmy-winning series "is a completely valid cycle of American Crime Story. There's a lot of nuance in this story that people don't know."
"I've read it, I think it's great. I don't believe it's going to determine who is the next president of the United States," Landgraf added in response to repeated questions about the air date.
Written by Sarah Burgess and based on Jeffrey Toobin's bestselling book A Vast Conspiracy: The Real Story of the Sex Scandal That Nearly Brought Down a President, Impeachment will star Sarah Paulson as Linda Tripp, Annaleigh Ashford as Paula Jones and Beanie Feldstein as Lewinsky.
Burgess will also serve as an executive producer along with Murphy, Nina Jacobson, Brad Simpson, Brad Falchuk, Larry Karaszewski, Scott Alexander. Alexis Martin Woodall and Sarah Paulson. Fox 21 Television Studios and FX Production will produce.