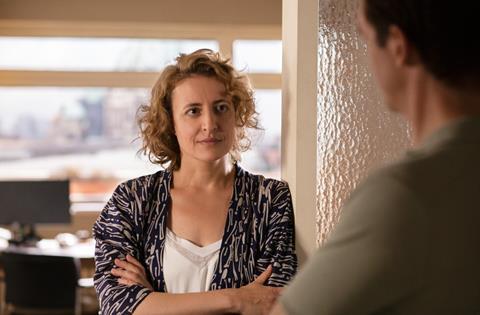 Cinemas throughout Germany will reopen tomorrow (July 1) after being closed for eight months due to the pandemic.
22 distributors have lined-up more than 25 films for release including the Oscar-winning Nomadland (Disney); Maria Schrader's Berlinale prize-winner I'm Your Man (Majestic/Paramount) and Catweazle (Tobis Film), based on the cult UK TV series from the 1970s.
German cinemagoers will also finally get to see major US releases such Godzilla vs. Kong (Warner Bros); Peter Rabbit 2: The Runaway (Sony) and Nobody (Universal) as well as video game adaptation Monster Hunter and family animation 100% Wolf from German independent distributor Constantin Film.
Other arthouse titles set for release include Gitta Gsell's gay romance Beyto (Salzgeber); Iciar Bollain's comedy La Boda de Rosa (Piffl Medien); and documentaries by Pepe Danquart (Ahead Of Me The South, Neue Visionen) and Belarus-born Aliaksai Paluyan (Courage, Rise and Shine Cinema).
The scale of the backlog of films can be seen by the fact that another 15 titles will be released a week later on July 8, including Black Widow (Disney); The Croods 2 (Universal); Long Story Short (Studio Canal); Radu Jude's Golden Bear winner Bad Luck Banging or Loony Porn (Neue Visionen); and Ramon and Silvan Zürcher's The Girl and the Spider (Salzgeber). Universal's Fast & Furious 9 and Warner Bros' Space Jam 2 and actor Daniel Brühl's directorial debut Next Door are among a further 13 releases being lined up for July 15.
Some distributors released films early into screens that had opened as part of local pilot projects. For example, last Thursday (June 24) saw Universal's Freaky; Warner's Cats & Dogs 3 and No Sudden Move; Paramount's A Quiet Place 2; Wild Bunch's Stowaway and Telepool's The Comeback Trail released in select venues.
Federal regulations
German exhibitors are grappling with the 16 federal states' constantly changing Covid regulations. For example, this week the Berlin Senate reduced social distancing in cinemas from 1.5m to 1m, meaning attendees only have to have one free seat between them and their neighbour.
The challenges faced by cinema managers in adhering to the regional variations are highlighted by the experiences of the UCI chain.
The company's multiplexes in Berlin require cinemagoers to provide a negative Covid-19 test from the last 24 hours, but the UCI Luxe in neighbouring Potsdam doesn't need evidence of a test as the seven-day cases in the region are currently less than 20 per 100,000.
There are also differences on whether wearing face coverings once seated are required. This is mandatory at UCI's sites in North Rhine-Westphalia and Hamburg, but not in Berlin, Rhineland-Palatinate, Brandenburg or Saxony-Anhalt.
Fimfest München
The decision by this year's Filmfest München to move its dates by a week to run from July 1-10 means the festival can now host indoor screenings at cinemas such as the Filmtheater Sendlinger Tor, City Kinos, and ASTOR Filmlounge. It was originally planned as an open-air-only event.