27,000 people sign petition spearheaded by French filmmakers in four days.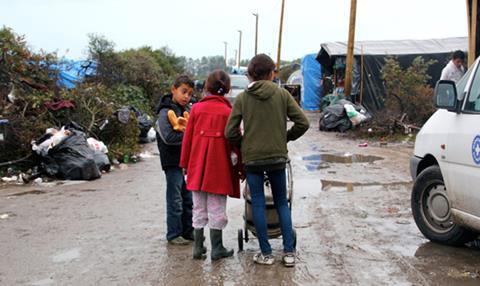 A petition initiated by French filmmakers last week calling on the French government to do more to help the inhabitants of the Calais "jungle" in northern France is gathering momentum, with Jean-Luc Godard and Arnaud Desplechin among the signatories.
The population of the squalid camps around the port of Calais has swollen to 6,000 people over the past month, due to the rising numbers of migrants arriving in Europe, as well as tighter security measures around the port and Channel Tunnel.
French filmmakers Nicolas Philibert, Ariane Doublet, Catherine Corsini and Christophe Ruggia spearheaded the petition initiative after visiting the camps last week, kicking it off on Wednesday (Oct 21) with the support of some 800 French artists.
More than 28,000 people had signed the petition by Sunday evening (Oct 25). The objective is to garner at least 35,000 signatures.
Philibert, Doublet, Corsinin and Ruggia said they had been shocked by the "appalling living conditions" in the camps.
"Between five and six thousand women, men and children, exhausted by a terrible journey, are left to themselves in the slums, with one meager meal per day, scarce access to showers or toilets, a devastating scabies epidemic, painful injuries, and untreated dental abscesses," reads the petition.
"Women are being raped. Children are left alone in the detritus. Police violence is routine. There are attacks organized by far-right militants."
The petition accuses the French government of leaving charitable organisations to run the camps and demands that it act immediately to launch an emergency plan to alleviate the appalling conditions.
"This disengagement by the public authorities is shameful in a country which even in this time of crisis is the sixth greatest global economic power," says the petition. "It habituates us to the idea that some poverties are defendable and others are not. It undermines the foundations of France's constitutional values."
Other French film industry signatories include, to name but a few, directors Laurent Cantet, Jean-Luc Godard, Celine Sciamma, Emmanuelle Bercot, Michel Hazanavicius, Eric Lartigau and Arnaud Desplechin, football-turned actor Eric Cantona, actresses Bérénice Bejo, Emmanuelle Béart and Anne Cosigny and producers Caroline Benjo and Carole Scotta.
For more information or to sign the petition click on: http://www.change.org/appeldecalais