Daphne, Glory also scoop prizes.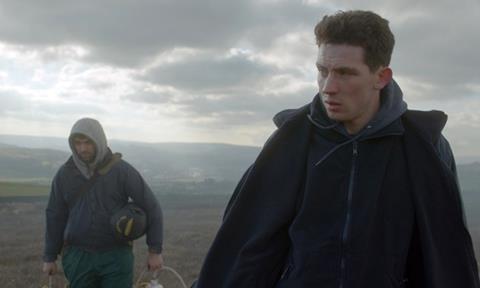 Francis Lee's God's Own Country has won the top prize at this year's Edinburgh International Film Festival.
The well-received drama, which premiered in Sundance and had its UK premiere in Edinburgh, took the Michael Powell Award for best British feature film.
The prize was awarded by a jury consisting of composer David Arnold, International Film Festival Rotterdam artistic director Bero Beyer, and Bafta-nominated film and television writer Andrea Gibb.
The jury commented: "We present the Michael Powell Award to God's Own Country, directed by Francis Lee, a film with a singularity of storytelling and consistency of vision. Assured direction with raw and endearing performances result in a film that has an authenticity that is both tender and brutal, a juxtaposition of landscape and emotion, which explores the question of what it means to be a man."
On hearing the news, director Francis Lee said: "I am thrilled with this honour for God's Own Country, especially when you consider the British films that have won before. After premiering at Sundance and Berlin it has been wonderful to see how the film has created a real resonance with people and that is why the Michael Powell Award feels so brilliant."
More prizes
Elsewhere, the Edinburgh award for best performance in a British feature was split jointly by Emily Beecham for Daphne and Anne Reid for her roles in Kaleidoscope and Romans.
The award for best international feature film went to Kristina Grozeva and Petar Valchanov's Glory, which had its UK premiere in Edinburgh. The international jury consisted of actor Bernard Hill, actress and writer Shauna Macdonald, and Dallas Film Festival artistic director James Faust.
Best documentary went to Chico Pereira's Donkeyote, while a special mention went to Thomas Riedelsheimer's Leaning Into The Wind. The doc jury consisted of actor Ralph Ineson, documentary filmmaker Simon El Habre, and British Council film programme manager and Screen International contributing editor Wendy Mitchell.
The award for best short film went to Daisy Jacobs' The Full Story, while special mentions went to Kevin Pickering's Close To The Bone and Gordon Napier's 1745.
The McLaren Award for best British animation went to Paloma Baeza's Poles Apart and this year's EIFF Works in Progress £2,500 award went to Piano To Zanskar by Michal Sulima.