UPDATED JUNE 16: Warner Bros' reboot records distributor's best-ever opening weekend in China with $36m.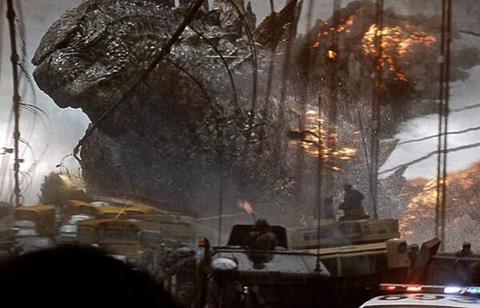 UPDATED: Godzilla has stomped back into top spot at the international box office with a confirmed $38.4m weekend in its 58 markets.
The vast majority came from a sensational $32.6m debut in China from 9,264 screens, marking Warner Bros' biggest three-day opening weekend of all time. Godzilla's IMAX screenings in China brought in over $4.5m for a joint best-ever opening weekend record with The Hobbit: The Desolation of Smaug.
Overall, Godzilla stands at $248.7m internationally, with a global tally of $440.2m, ahead of its Japanese release through Toho on July 25. The UK has generated $28.3m and Mexico $16.3m.
Retaining top spot in Korea with $6.2m for $24.8m, Edge Of Tomorrow fought its way to an additional $37.3m, with around 5.1m admissions, for $181m to date overseas including $14.2m generated by IMAX.
The action sci-fi held well in China against the might of Godzilla with a $9.2m weekend and a local tally of $49.2m, while Russia dropped just 19% in its second weekend to add $5.2m for $15.6m.
Edge of Tomorrow lands in Japan on July 4.
DISNEY
With releases in China (next week) and Japan (July 4) still to come, Maleficent has enchanted the international box office to the tune of $272.9m following a $37.2m weekend in its 53 territories.
Despite competition from How to Train Your Dragon 2, the reimagining of Sleeping Beauty recorded a chart-topping $1.8m bow in Thailand for Angelina Jolie's biggest-ever opening.
Globally, Maleficent stands at $436m to put it as Jolie's second highest grossing live-action film of all time after just 19 days of release. It'll shortly overtake Mr. & Mrs. Smith's $478m result.
Also for Disney, Frozen continued its astonishing run in Japan where it'll be the number one film for the 14th consecutive weekend with $3.8m. Overall, the Oscar-winning animation has amassed $225.5m in the territory, and a mighty $852m internationally.
FOX
UPDATED: Launching in 28 markets day-and-date with the US, How To Train Your Dragon 2 began its overseas flight with $24.4m.
Highlights included a $12.4m bow in Russia for the industry's fifth highest animation opening ever in the market, while Malaysia provided the industry's biggest animated opening ever in the market at $2.2m. The Philippines and India grossed $1.9m and $1.2m, respectively, for the industry's second highest animated openings ever in the markets. SIngapore delivered a commendable $1.7m from 65.
The animated sequel opens in 28 markets next weekend, including Argentina, Australia, Brazil and Mexico.
Ahead of its final opening in Venezuela next weekend, X-Men: Days Of Future Past grossed a confirmed $18.4m from its 75 markets to take its overseas haul to $457.9m and its global tally to $663.5m.
China continues to be the biggest market with $111.8m following a $2.1m weekend and, despite the launch of the World Cup, Brazil fell just 34% to add $2m for $23.9m and the UK and France provided $1.5m for $41.8m and $1.4m for $26.6m, respectively.
The Fault In Our Stars expanded into 21 new markets, taking $16.2m from an overall 40 markets for $39m.
The adaptation retained top spot in Brazil with $4.2m and a local tally of $12.3m, while it recorded excellent openings in Germany ($1.8m from 388), Norway ($613,299 from 134) and Chile ($466,156 from 69). It opens in seven new markets next weekend, including the UK, Belgium and Sweden.
Comedy The Other Woman edged towards $100m with a $1.5m weekend from its 37 markets for $97.9m to date ahead of its release in France and Italy next weekend.
Rio 2 has reached $345.2m with a $1.4m weekend in its 42 markets.
SONY
UPDATE: To go with its chart-topping $60m domestic debut, 22 Jump Street earned $6.6m from its 14 territories for an early $20.5m overseas.
Number one openings were recorded in New Zealand ($707,731) and Israel ($361,947), while the comedy sequel retained the top spot in the UK with $3.8m for a local tally of $16.5m.
UNIVERSAL
UPDATE: Opening in nine new territories (with the best result coming in Malaysia), A Million Ways To Die In The West grossed $4.3m from its 46 markets for an overseas tally of $26.8m. The comedy is still to open in 12 territories, starting with Peru on June 26.
With no new openings, Neighbors added $1.9m from its 37 territories for $88.8m overseas and a global performance of $231.9m to date. It opens in Argentina, Brazil, Colombia and Panama next weekend.
Richard Linklater's Boyhood is being distributed by Universal in all international territories except France, Belgium and the Netherlands, with its second weekend bringing in $393,000 from Germany, Austria and Switzerland to stand at an early $917,124.
Released by Universal in Spain and Scandinavia, British thriller The Two Faces Of January charted third in Spain with a $455,500 debut from 227 dates.
PARAMOUNT
With a strong $3.5m opening in Japan, Noah floated to a further $4m from its 19 markets to lift its international gross to $251m. The Philippines also opened to an excellent $429k from 90 sites.