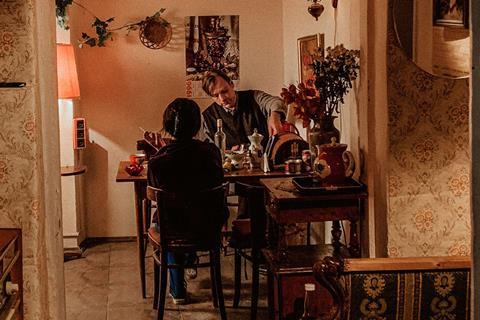 Sweden's Goteborg Film Festival has unveiled the first three features to benefit from a new film fund, created to support cultural expression in areas of the world threatened by economic or political instability.
At a presentation in Cannes, Goteborg Film Fund manager Camilla Larsson and Goteborg Film Festival artistic director Jonas Holmberg announced the titles that would receive post-production grants of $40,000 (SEK 350,000) each. They include:
La Palisiada, directed by Ukraine's Philip Sotnychenko and produced by Sashko Chubko, Valeria Sochyvets and Halyna Kryvorchuk, which explores a case in 1996 when Ukraine's death penalty was being abolished.
Rule 34 (Regra 34), directed by Brazil's Julia Murat and produced by Julia Murat, Tatiana Leite and Juliette Lepoutre, which centres on a young black attorney who paid her way through law school by offering live online sex sessions.
The Rain Bride (Bûka Baranê), a Kurdistan Regional Government-Iraq production, directed by Hussein Hassan and produced by Mehmet Aktas, which is set in 2014 in the Kurdish city of Duhok and follows a a family of dancers caught up in the Isis war.
They were selected from more than 1,000 applications. The Goteborg Film Fund was launched in May and is open to projects from Brazil, Kurdistan, Sudan and Ukraine in an effort to aid artistic freedom and free speech in regions where democracy may be under threat.
The one-year project, supported by Swedish Ministry of Foreign Affairs, has now opened submissions for its innovative distribution support.
New Swedish projects
At the same Swedish Film Institute (SFI) and Film i Väst presentation in Cannes, SFI unveiled three new projects, led by Andreas Ohman's One Day All This Will Be Yours, directed by Peter Haber from TV's Beck, and produced by Markus Walta and Eliza Jones, whose credits include Pleasure. Film i Vast is also backing One Day…, which is described as a warm drama-comedy about inheritance, heritage, freedom and family.
The second is Mans Nyman's Regulars, backed by SFI's Moving Sweden scheme. Nyman said his film is "15 small stories woven together with more than 30 characters, all about relationships from different perspectives." The film, which finished its shoot last week, also features Swedish rappers.
The third is Madame Luna from director Daniel Espinosa, produced by David Herdies and based on a script by Maurizio Brauncci (Dogman, Gomorrah). The story is about a human trafficker in Libya who then becomes a refugee. Espinosa, whose credits include Easy Money, Child 44 and upcoming Marvel feature Morbius, will return to Swedish-language production. He said: "It is a story of a perpetrator who becomes a victim but also a study of the immigration system in Europe."
Veteran filmmaker Stig Bjorkman attended the event as an actor in Mia Hansen-Love's Bergman Island, which shot on the Swedish island of Faro. Bjorkman revealed that he is finishing a documentary about US author Joyce Carol Oates, working titled The Writer. His past films as a director include Ingrid Bergman: In Her Own Words, The White Wall and Georgia, Georgia.
Film i Väst, Scandinavia's biggest film fund, has four films selected for this year's Cannes: The Worst Person in the World, Lamb, The Innocents and A Chiara.