Other Winners include The War Show, Tom of Finland, Heartstone.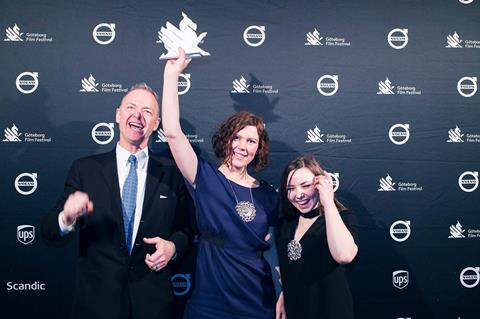 Swedish director Amanda Kernell's Sami Blood won the Dragon award for best nordic feature in Goteborg, worth $114,000 (1m SEK), making it one of the most lucrative prizes at any international film festival.
Kernell's debut feature is a drama about a teenage Sami girl who resolves to leave behind her identity in racist 1930s society and start a new life in Uppsala. Kernell, who has Sami heritage, was inspired by her grandmother's own story. At the Goteborg awards gala, Kernell (pictured) thanked "the elders who shared their stories with me".
The film also won the Sven Nykvist cinematography award for DoP Sophia Olsson.
Sami Blood premiered in Venice Days and then played at festivals including Toronto, Tokyo and Dubai. LevelK handles sales.
Other winners in Goteborg were: best Nordic documentary to Obaidah Zytoon and Andreas Dalsgaard's Syria story The War Show, which the jury said was "a monumental and uncompromising film" and "a punch in the face to all of us"; the Ingmar Bergman award for best debut to The Impossible Picture by Sandra Wollner from Germany; and the Lorens award for best producer to Heartstone's Anton Máni Svansson, Lise Orheim Stender, Jesper Morthorst and Guðmundur Arnar Guðmundsson.
Audience prizes went to Their Finest by Lone Scherfig who also got an Honorary Dragon; and Beyond Dreams by Rojda Sekersöz (best Nordic feature).
The Fipresci prize from international critics went to Goteborg's opening film, Tom of Finland, a biopic of the gay artist directed by Dome Karukoski.
The jury praised "the way the director and his team portray the life of such an iconic character, balancing a well done execution and story development, and taking us through the decades thanks to a clever use of music and production design".
Karukoski said the film had a vital message especially in these times. "We're living in Trump times, it's going to be a rough four years, the world is going back to the middle ages… What we hope to achieve with this film is to bring it into a mainstream audience. People might not care about Tom, or about gays, but it is so much easier for us to let people love and let people be who they are."
Jean-Pierre and Luc Dardenne attended the awards ceremony to collect their Honorary Dragon award. They said they were thrilled to be in the west Swedish city of Goteborg which is "the birthplace of the working class, of Swedish social democracy."