A strong crop of works in progress projects are set to be presented at Goteborg's Nordic Film Market, which runs Feb 1-4.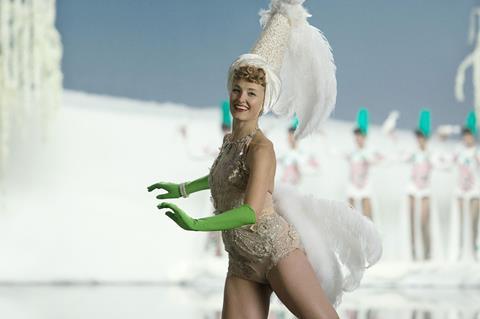 The selection includes new films from Benedikt Erlingsson (Of Horses and Men), Michael Noer (R), and Anne Sewitsky (Happy Happy).
Presentations of clips by the directors/producers will be made to the industry attendees in Goteborg.
Erlingsson will present his new film Woman At War, an "arthouse action film" about an Icelandic woman on an environmental mission. Noer will discuss his new Danish period drama A Better Life starring Jesper Christensen as an 1850s farmer. Sewitsky will unveil footage of her Sonja Henie biopic Queen Of Ice.
The 17 projects are:
Swoon, dir Mans Marlind and Björn Stein, prod Kristina Aberg (Swe)
Bergman, dir Jane Magnusson, prods Mattias Nohrborg, Fredrik Heinig, Cecilia Nessen (Swe)
Happy People, dir Samanou Acheche Sahlstrøm, prod Jakob Høgel (Den)
The Human Part, dir Juha Lehtola, prods Mark Lwoff, Misha Jaari (Fin)
One Last Deal, dir Klaus Haro, prods Kai Nordberg, Kaarle Aho (Fin)
That Time of Year, dir Paprika Steen, prod Mikael Rieks (Den)
Goliath, dir Peter Grönlund (Swe)
Stupid Young Heart, dir Selma Vilhunen, prods Venla Hellstedt, Elli Toivoniemi (Fin)
Phoenix, dir Camilla Strøm Henriksen, prod Gudny Hummelvoll (Nor)
Queen Of Ice, dir Anne Sewitsky, prod Synnøve Hørsdal (Nor)
Happy Ending, dir Hella Joof, prod Mie Andersen (Den)
Beware of Children, dir Dag Johan Haugerud, prod Yngve Sæther (Nor)
The Deposit, dir Ásthildur Kjartansdóttir, prods Eva Sigurdardóttir, Ásthildur Kjartansdóttir (Ice)
A Better Life, dir Michael Noer, prods René Ezra, Matilda Appelin (Den)
Framling, dir Mikel Cee Karlsson, prod Erik Hemmendorff (Swe)
Untitled Anna Odell, dir Anna Odell, prods Frida Bargo, Mattias Nohrborg (Swe)
Woman At War, dir Benedikt Erlingsson, prod Marianne Slot (Ice)
Finished films screening in closed industry screenings at the NFM include Sweden's huge box-office hit Solsidan – The Movie; Sundance titles Holiday, And Breathe Normally, and The Guilty; Göran Hugo Olsson's doc That Summer; and Harald Zwart's Norwegian epic The 12th Man.
In other Goteborg news, more speakers have joined the lineup for the TV Drama Vision conference. Those include Brian Pearson, Director International Originals at Netflix, Walter Iuzzolino, CCO at GSN and curator of streaming service Walter Presents; Fredrik Zander, Senior Executive Producer, Chimney LA; Daniel Lägersten, Producer, Brain Academy; Marike Muselaers, Content and Strategy/co-CEO of Lumière Group; and Ivar Køhn, Head of Drama at NRK.