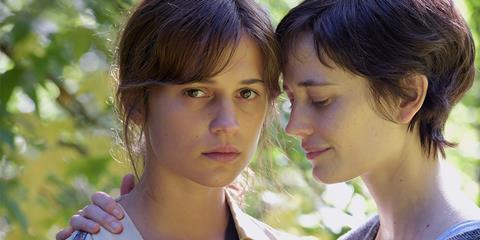 UK-based fund manager Great Point Media has announced key territory deals on Toronto International Film Festival (TIFF) Platform title Euphoria starring Alicia Vikander and Eva Green ahead of the world premiere.
The company, which has launched an aggressive move into direct international sales in Toronto, holds worldwide rights and has closed all-rights deals with Mars for France, CDC for Latin America, and Kadokawa for Japan.
Wild Bunch has licensed Germany, Switzerland and Italy, while SF Studios will distribute in Scandinavia.
Swedish auteur Lisa Langseth makes her English-language debut on Euphoria, which reunites the director with her Hotel and Pure star Vikander.
The story centres on two estranged sisters who attempt a reconciliation in the most difficult of circumstances. Charlotte Rampling, Charles Dance, Adrian Lester and Mark Stanley round out the key cast.
Charles Collier produces with Vikander, Patrik Andersson and Frida Bargo. Great Point Media's Robert Halmi and Jim Reeve serve as executive producers with Fredrik Heinig.
Halmi said, "The spellbinding Euphoria is sure to bring worldwide acclaim for director Lisa Langseth and her cast." Reeve added, "This is the finest collaboration yet of Lisa Langseth and her frequent star, Alicia Vikander. We are thrilled to have already found a home for the film in so many territories with such great distribution partners."
Euphoria is A Great Point Media presentation produced by B-Reel Films, Vikarious Film and Dancing Camel Film Production. The film was produced with Filmregion Stockholm-Mälardalen and Spellbound Capital, Nordsvensk Filmunderhållning, Sveriges Television, SF Studios & Reel Ventures.
Great Point Media's sales slate includes Toronto selection My Days Of Mercy starring Ellen Page and Kate Mara, as well as Rememory with Peter Dinklage, Love After Love starring Chris O'Dowd and Andie MacDowell, and The Party with Kristen Scott Thomas, Timothy Spall, Patricia Clarkson and Bruno Ganz.