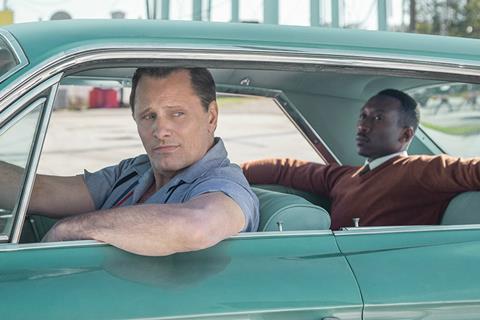 Green Book was crowned best picture at the 91st annual Academy Awards on Sunday (24) in a politically aware show that delivered a squeaky-clean postscript to a controversial season and saw Olivia Colman bring the house down with a solitary win for The Favourite in the lead actress category.
Netflix missed out on its coveted first best picture award for ROMA. However, Ted Sarandos and his cohorts at the streaming platform, whose $30m marketing campaign and disruptive distribution model sparked plenty of debate throughout the season, will be thrilled with three Oscars for the film (and one for documentary short Period. End Of Sentence), including a second best director award for Alfonso Cuaron.
The Mexican auteur also earned cinematography and foreign-language honours, and his win means he and fellow countrymen Guillermo del Toro and Alejandro G. Iñárritu have claimed the directing Oscar five out of the past six years. Cuaron also won for Gravity in 2014. "I want to thank the Academy for recognising a film centred around an indigenous woman, one of the 70 million domestic workers in the world without work rights, a character that has historically been relegated in the background in cinema," said Cuaron. "As artists our job is to look where others don't. This responsibility becomes much more important in times when we are being encouraged to look away."
It was a magnificent night for Participant Media, which produced and financed both ROMA and Green Book, the Civil Rights-era road movie that also won Oscars on the night for supporting actor Mahershala Ali – his second after Moonlight in 2017 – and original screenplay for Nick Vallelonga, Brian Currie and Peter Farrelly. The film drew criticism during the season for its depiction of the gifted pianist Dr. Don Shirley, with family members angry over the suggestion in the film that the late musician was distant from the family and African Americans in general. There was online reaction too after a best picture acceptance speech in which director Farrelly said, "This doesn't start without Viggo Mortensen." Commentators were irritated Farrelly did not pay tribute first to Oscar-winner Ali first.
Colman's lead actress win for The Favourite was the night's big shock and yet nobody will begrudge her win for a memorable turn as Queen Anne in Yorgos Lanthimos' Restoration Comedy farce. It was the only victory for the Fox Searchlight release, which began the night on a field-leading 10 nominations alongside ROMA. The British actress won the Bafta earlier in the month and also took the musical or comedy Golden Globe. The Academy had been expected to give Glenn Close her first Oscar for The Wife after her Screen Actors Guild, Spirit Awards and dramatic Golden Globe triumphs.
"It's genuinely quite stressful," said Colman once she took to the Dolby Theatre stage in Hollywood. "This is hilarious. Got an Oscar. I have to thank lots of people. If by the way I forget anybody, I'm going to find you later and I'm going to give you all a massive snog and I'm really sorry if I might forget now. Yorgos, my best director, in the best film and with Emma [Stone] and Rachel [Weisz], the two loveliest women in the world to fall in love with and to go to work with every day. I mean, you can imagine, it wasn't a hardship. And to be in this category with these extraordinary women. And Glenn Close, you've been my idol for so long and this is not how I wanted it to be. And I think you're amazing and I love you very much."
Rami Malek was named best actor for Bohemian Rhapsody, which earned four awards in total – the others being editing, sound editing and sound mixing – and category favourite Regina King won best supporting actress for If Beale Street Could Talk. The James Baldwin adaptation was one of two wins for Annapurna Pictures, the other being best make-up and hairstyling for Vice.
Spike Lee was a popular highlight, winning his first competitive Oscar for the adapted screenplay to BlacKkKlansman, 29 years after he earned his first nomination for the original screenplay for Do The Right Thing. Lee received an honourary Oscar in 2016. Marvel Studios won its first Oscars for Black Panther, which earned three for best score, production design and costume design in an historic night.
"I stand here with agency and self-worth because of Ryan Coogler," said production designer Hannah Beachler (who shared the award with Jay Hart) in one of the most emotional speeches of the night. "You not only made me a better designer, a better storyteller, a better person, I stand here because of this man who offered me a different perspective of life, who offered me a safe space, who's patient and gave me air, humanity and brotherhood."
Beachler became the first African American woman ever to be nominated for the award let alone win it. In another first for Black Panther, Ruth E. Carter became the first African-American woman to win the Oscar for costume design.
Lady Gaga proved a popular winner in the best song category, sharing the award with Mark Ronson, Anthony Rossomando and Andrew Wyatt for 'Shallow' from A Star Is Born. Gaga performed the song live earlier in the telecast with her co-star and director Bradley Cooper. Other live performers on the night included Jennifer Hudson and Bette Midler.
Like Colman and Beachler, Gaga delivered a deeply emotional acceptance speech in which she spoke of the struggle to realise her dream. "And if you are at home and you're sitting on your couch and you are watching this right now, all I have to say is that this is hard work," she said. "I have worked hard for a long time and it's not about, you know, winning, but what it's about is not giving up."
Coming in at three hours and 20 minutes, the hostless telecast went smoothly enough, as a succession of presenters, led off by Tina Fey, Amy Poehler and Maya Rudolph, breezed through a good-humoured albeit often dull show that poked fun at President Trump's border wall, as well as Academy U-turns on reviled, short-lived proposals to award a 'popular Oscar', and present four statuettes during commercial breaks – including senior categories for editing and cinematography.
There was serious commentary, too, that touched on diversity. Several presenters and recipients spoke of women's rights and racial equality and, as was the case last year, the tone was calm and measured.
Spider-Man: Into The Spider-Verse co-writer Phil Lord summed up much of the essence of the night when he joined his fellow filmmakers on stage to collect the best animated feature Oscar. "So when we hear that somebody's kid was watching the movie and turned […] and said, 'He looks like me,' or, 'They speak Spanish like us,' we feel like we already won."
Free Solo won best documentary.
American Idol alumnus and Queen front man Adam Lambert joined Brian May and Roger Taylor on stage to open the show with the band's traditional medley of We Will Rock You and We Are The Champions.
Presenters included Serena Williams, Tom Morello from Rage Against The Machine, Keegan-Michael Key descending from the ceiling on a wire a la Marry Poppins, and Mike Myers and Dana Carvey of Wayne's World. Laura Dern took to the stage to plug the Academy's museum, which is set to open later this year.
The 'In Memoriam' section paid tribute to, among others, Albert Finney, Bernardo Bertolucci, Anne V. Coates, independent film industry stalwart Samuel Hadida, Milos Forman, Penny Marshall, Stan Lee, William Goldman, Vittorio Taviani, Burt Reynolds, Margot Kidder, Nicolas Roeg, Bruno Ganz and Craig Zadan.