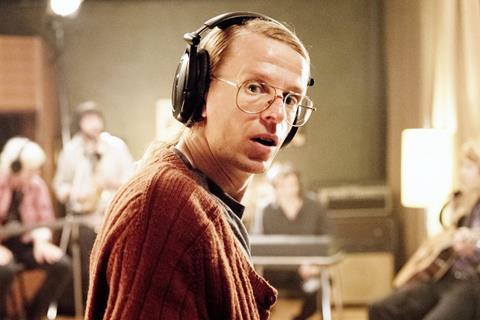 Andreas Dresen's biopic Gundermann was the big winner at this year's German Film Awards, taking home six Lolas at the weekend's gala in Berlin after receiving a record 10 nominations.
The production by Pandora Film Produktion and Kineo Filmproduktion received the evening's top award, the Lola in Gold for best feature film, as well as the Lolas for best director (Dresen), screenplay (Laila Stieler), lead actor (Alexander Scheer), production design (Susanne Hopf) and costume design (Sabine Greunig).
Accepting his Lola for best director - his third win in this category after Wolke Neun (Cloud 9) and Halt auf freier Strecke (Stopped On Track) - Dresen said that the recognition was a fitting end for the long gestating project. He first proposed the idea of a film about the East German singer-songwriter Gerhard Gundermann to Stieler during a stroll in the Brandenburg countryside more than 13 years ago.
Stieler, who knows Dresen from their student days, had penned eight different drafts of the screenplay for Gundermann over the space of ten years and was rewarded with her first ever Lola for best screenplay.
The German Film Academy members' choice of winners this year showed a clear preference for films dealing with political or social issues, whether it be the fate of refugees trying to make their way to Europe (Styx), the lives of families in ISIS-occupied Syria (Of Fathers And Sons), or the political machinations of international intelligence services (Blame Game).
Wolfgang Fischer's highly acclaimed refugee drama Styx - which had premiered at the 2018 Berlinale - picked up four prizes, including the Lola in Silver for best feature film and a best actress for the film's lead Susanne Wolff.
Meanwhile, Syrian-born, Berlin-based filmmaker Talal Derki's Of Fathers And Sons, which had been nominated at this year's Oscars in the best documentary category, beat off competition from Elternschule and Hi, A.I. - Love Stories From The Future to win the Lola for best documentary. Derki's film became the second documentary in a row to also take home the Lola for best editing after Andres Veiel's Beuys won the same two awards last year.
The comedian Hape Kerkeling made a special appearance to present director Caroline Link with the Lola for the most successful German film of the past 12 months for her adaptation of his autobiography All About Me (Der Junge muß an die frische Luft). The film appealed to both arthouse and mainstream audiences with admissions now close to 3.6 m in Germany since its release by Warner Bros at the end of 2018.
Nominated in five categories, All About Me also received the Lola in Bronze for best feature film as well as for best supporting actress (Luise Heyer).
Speeches
One of the highlights of the ceremony, which ran to almost four hours, was the laudatory speech by actress Katja Riemann for the recipient of this year's Honorary Lola for services to German cinema: the veteran screenwriter, director and actress Margarethe von Trotta.
The 2,000-strong gala audience gave von Trotta a long and heartfelt standing ovation before her acceptance speech, which saw her thank ex-husband Volker Schlöndorff, Wim Wenders, producer Eberhard Junkersdorf and the Berlinale Forum co-founders Ulrich and Erika Gregor.
Speaking ahead of the awards ceremony at a reception given by the CDU/CSU political parties, the German Film Academy's new president, actor Ulrich Matthes, spoke of his desire to have the Academy be more politically active in the future and for those working in the film industry to help defend an open democratic society against right-wing populism.
Matthes was also joined by State Minister for Culture and Media Monika Grütters, who revealed that the German Federal Government's 2020 budget will include around €17m ($19.05m) for supporting independent cinemas in rural areas. This follows a €5m ($5.6m) emergency aid package announced last month that will come into effect this year.