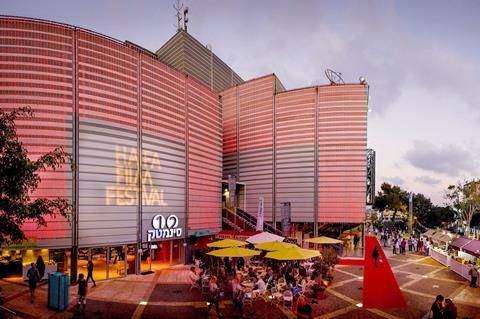 Israel's Haifa International Film Festival (September 22 - October 1) has launched a script development programme called the Haifa Script Distillery to support Israeli writers to develop English-language film and TV scripts.
The initiative has been unveiled during this year's festival where 20 projects chosen from 400 entries are being presented (See full list below). Six to eight works will be shortlisted and will each receive a development grant of 50,000 NIS ($14,000). Each writer will be mentored and receive training from tutors and supporting partners.
Once fully developed, the selected works will be presented to an industry panel of international commissioners at the Innovative TV Conference (INTV) in Jerusalem in March 2019.
The programme is created by New York-based development, production and finance company Tadmor Entertainment, together with Israeli producer and distributor Keshet International, financing and sales company Endeavour Content and Israeli film fund The Rabinovich Foundation.
The artistic directors for the programme are Guilhad Emilio Schenker of Tadmor Entertainment, Yuval Horowitz and Adi Ezroni. Ruth Lev-Ari will curate the selection.
Festival competition
The festival has also augmented its partnership with New York-based media financing fund BCL Finance Group that makes BCL the festival's principal commercial sponsor. In a total contribution worth $1.5m, BCL is sponsoring the prizes for the three main competition categories and is providing completion financing for three additional films.
Michael Bassick and Michael Laundon of BCL, as well as Jordi Rediu of the company's European partner, are serving on the jury of the competition categories.
Haifa opened with Avi Nesher's Toronto title The Other Story, about a secular young woman who becomes engaged to an ultra-Orthodox Jew who used to be a hedonistic musician. Damien Chazelle's Neil Armstrong biopic First Man starring Ryan Gosling will close the event.
Among the Competition titles are Aäläm-Wärqe Davidian's Fig Tree, which recently won the Eurimages Audentia award at Toronto Film Festival.
Haifa Script Distillery projects
Feature film
Absence - Dror Shaul
Amor 1 - Yaelle Kayam
Siberia - Yona Rozenkier; Kobi Mizrahi
Isabella - Nitzan Gilady
The Doomed Dynasty - Amir Ben David
Terminal - Yoav Katz, Mati Harari and Arik Lubetzky
Absolute Beginner - Sigal Avin and Rona Tamir;
Holy Land - Ariel Weisbrod
The Bleeding Heart Show - Yoav and Doron Paz
One And All - Carmit Levite, Haim Meckleberg
TV series
Spin Doctors - Iris Levornik
By The Mouth Of The Sacred Cave - Tuvi Arbel
Future Perfect -Evgeny Ruman, Dmitry Malisky
Blood Orange - Ron Ninio and Sharon Bar Ziv
The Club - Mor Kaplanski and Shira Hadad
The Blood Brothers - Assaf Shalita
Ruthi Trip - Tal Miller, Dana Lerer and Prof. Moshe Kotler
The Trial - Yair Asher and Yael Segal
Cause Of Death/Distruption - Amir Singer and Aaron Kaplan
The Good Will - Neta Plotnik and Udi Rothschild