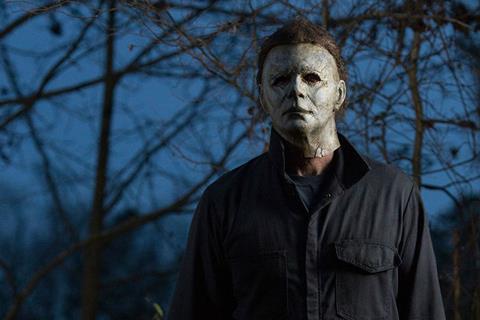 OCTOBER 22 UPDATE: A powerhouse October continued to deliver the goods as Universal/Blumhouse's horror reboot Halloween starring Jamie Lee Curtis stormed to the top of the North American charts on a franchise-best $76.2m that produced the second best October debut in history behind recent release Venom.
This was the second highest debut for an R-rated horror behind last year's It on $123.4m, and, 40 years after John Carpenter's iconic horror classic first hit the screens, the latest entry in the saga of crazed killer Michael Myers and defiant survivor Laurie Strode (Curtis) has already overtaken the final grosses of every other film in the series. David Gordon Green directed and co-wrote the screenplay with Danny McBride.
Blumhouse and Miramax co-financed Halloween for a reported $10m budget, marking another low-budget success for horror ace Jason Blum. "Universal, Blumhouse and Jamie Lee Curtis have been wonderful partners in bringing Halloween to market," said Nasser Al-Khelaifi, chairman of Miramax and beIN Media Group. "There are very few films that have had the wonderful mixture of old Hollywood and new trends, seen in Halloween, that together create the excitement for audiences. We look forward to many more partnerships."
Jonah Hill's directorial debut and coming-of-age drama Mid90s delivered a terrific $258,157 debut at number 20 in four theatres via A24 for one of the best averages of the year on $64,539.
Warner Bros' Oscar front-runner A Star Is Born held tight in second place and surged past $125m as $19.1m propelled it to $126.1m after an impressive 33% drop in the third weekend, while Sony/Marvel's hit comic book adaptation Venom fell one slot to number three on $18m, for $171.1m after three.
In its second session Sony's Goosebumps 2: Haunted House fell a decent 38.5% to hold firm at number four on $9.7m for $28.8m. Universal's heavyweight awards contender First Man fell a respectable 48% in its second session as it dropped two places to number five on $8.3m for a lacklustre $29.8m. The worldwide tally stands at $55.5m and the space race drama reportedly cost $59m to produce.
Fox's police shooting drama The Hate U Give climbed 333.7% and three slots to number six after Fox expanded the theatre count in the third weekend from 248 to 2,303 and the film added $7.6m for $10.7m. Fox's Bad Times At The El Royale fell 52.1% and two slots to number nine in the second weekend, adding $3.4m for $13.5m.
Fox Searchlight's true-life crime drama The Old Man & The Gun, which may or may not be Robert Redford's final role, climbed five slots to number 10 as the distributor expanded the theatre count from 228 to 802 and it added $2.1m to $4.3m after four weekends. Melissa McCarthy in the drama Can You Ever Forgive Me? about celebrity biographer Lee Israel debuted at number 23 in five sites on $161,510 through Fox Searchlight for a strong $32,302 average.
Box office for the top 12 generated $158.8m, up 23.5% against last weekend and a giant 94.2% up against the comparable session in 2017.
This week's wide releases are: submarine thriller Hunter Killer starring Gerard Butler, Gary Oldman, Common and the late Michael Nyqvist through Lionsgate/Summit; and faith-based drama Indivisible via PureFlix.
Confirmed top 10 North America Oct 19-21, 2018
Film (Dist) / Conf wkd gross / Conf total to date
1 (-) Halloween (Universal) Universal Pictures International $76.2m –
2 (2) A Star Is Born (Warner Bros) Warner Bros Pictures International $19.1m $126.1m
3 (1) Venom (Columbia Pictures-Marvel) Sony Pictures Releasing International $18m $171.1m
4 (4) Goosebumps 2: Haunted Halloween (Columbia Pictures) Releasing International $9.7m $28.8m
5 (3) First Man (Universal) Universal Pictures International $8.3m $29.8m
6 (9) The Hate U Give (Fox) Fox International $7.6m $10.7m
7 (5) Smallfoot (Warner Bros) Warner Bros Pictures International $6.6m $66.43
8 (6) Night School (Universal) Universal Pictures International $4.9m $66.8m
9 (7) Bad Times At The El Royale (Fox) Fox International $3.4m $13.5m
10 (15) The Old Man & The Gun (Fox Searchlight) Fox International $2.1m $4.3m