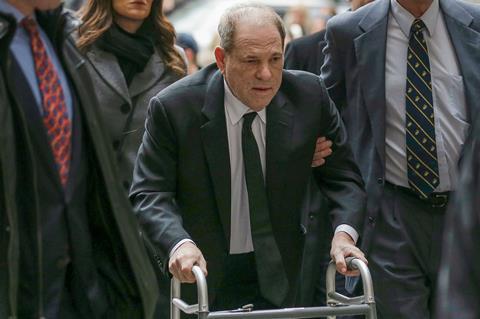 Convicted rapist Harvey Weinstein has been relocated from hospital to Rikers Island prison in New York after undergoing a heart operation.
The disgraced former Hollywood mogul spent the last 10 days at Bellevue Hospital where he was admitted after complaining of chest pains following guilty verdicts in two of five felony charges on February 24.
Surgeons inserted a stent into his heart to relieve a blockage. Weinstein's lawyers said the New York City Department of Corrections decided to send him to Bellevue.
Now in Rikers, Weinstein will remain in the North Infirmary Command medical unit while he awaits sentencing by Judge James Burke on March 11.
Last week a Manhattan jury of five women and seven men found Weinstein, 67, guilty of third-degree rape and first-degree criminal sexual assault.
Weinstein and his legal team are appealing the conviction. He was acquitted of the most serious charges of predatory sexual assault and first-degree rape yet still faces up to 29 years in prison.
He also faces charges in Los Angeles related to the alleged assault of two women in 2013.