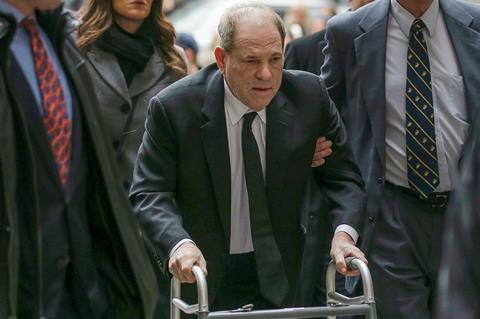 Harvey Weinstein has been sentenced to 23 years in prison for third-degree rape and first-degree sexual assault.
Weinstein attended court to hear the sentence and expressed remorse to Judge James Burke and said he was confused by the decision. The judge sentenced him to 20 years in prison and five years of supervised release for the first-degree offence and three for the third-degree rape.
He has spent the last few days at Rikers Island prison in New York, following a brief stay at Bellevue Hospital where surgeons inserted a stent into his heart. According to reports, he injured his head in a fall on Sunday.
Outside the Manhattan courthouse on Wednesday the disgraced former Hollywood mogul's lead defence attorney Donna Rotunno said, "I am overcome with anger at that number. I think that number is a cowardly number to give. I think the judge caved just as the jury caved and I am not happy. It was very clear that nothing we did or said today was going to make a difference."
Weinstein was found guilty on February 24 of third-degree rape of Jessica Mann, and first-degree sexual assault for forcing oral sex on Mimi Haleyi (also known as Miriam Haley).
He had pleaded not guilty to all five counts on the indictment and was acquitted of the two most serious charges of predatory sexual assault, and one charge of first-degree rape of Mann.
The third-degree rape count carried a maximum sentence of four years in prison and means the disgraced former Hollywood mogul and now convicted rapist has had to register as a sex offender. The first-degree sexual assault charge carried a sentence ranging from five to 25 years.
Prior to sentencing, Rotunno sent a note earlier this week (9) to Judge Burke in the defence team asked for leniency and hailed their client's career accomplishments.
Last week prosecutor Joan Illuzzi-Orbon painted a very different picture in a submission to the judge, claiming Weinstein had led a "lifetime of abuse" and urging for the appropriate sentence.
The defence's request for leniency on Monday came as sealed court documents related to the trial were opened, revealing Weinstein's "suicidal" thoughts after allegations against him first emerged in 2017.
"I have lost my family," Weinstein wrote at the time. "I have daughters that will not talk to me. I have lost my wife. I have lost the respect of my ex-wife and generally almost all of my friends. I have no company. I'm alone. And I will be honest with you: I'm suicidal."
Weinstein's legal team has already said he will appeal the convictions. He also faces charges from Los Angeles prosecutors.
Since 2017, more than 100 women have accused Weinstein of sexual misconduct. The former Hollywood mogul has consistently denied any non-consensual sex.