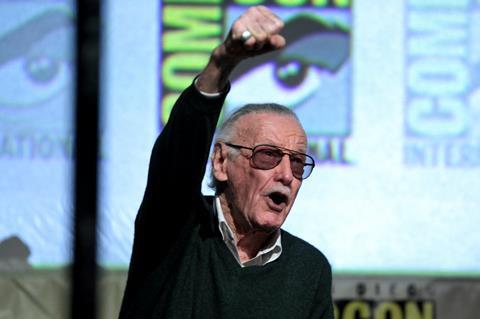 Tributes are flowing in from Hollywood following the death on Monday of Marvel Comics pioneer Stan Lee.
Lee died at Cedars Sinai Medical Center in Los Angeles on Monday (12) after a medical emergency. The late publisher of Marvel Comics whose fecund imagination alongside that of writer-artists Jack Kirby and Steve Ditko spawned the likes of Spider-Man, Black Panther, The Fantastic Four, and The X-Men, was 95.
"No one has had more of an impact on my career and everything we do at Marvel Studios than Stan Lee," said Marvel Studios president Kevin Feige. "Stan leaves an extraordinary legacy that will outlive us all. Our thoughts are with his daughter, his family, and the millions of fans who have been forever touched by Stan's genius, charisma and heart. Excelsior!"
"Excelsior!" was Lee's preferred way of signing off correspondence.
"There will never be another Stan Lee," Chris Evans, who plays Captain America in the Marvel Cinematic Universe (MCU) films, wrote on Twitter. "For decades he provided both young and old with adventure, escape, comfort, confidence, inspiration, strength, friendship and joy. He exuded love and kindness and will leave an indelible mark on so, so, so many lives. Excelsior!!"
Robert Downey Jr, who plays Iron man in the films, posted a picture of himself with Lee on Instagram and wrote, "Owe it all to you. Rest in peace Stan."
"Stan Lee was as extraordinary as the characters he created," Bob Iger, the chairman and CEO of Disney, which acquired Marvel Entertainment for $4bn in 2007, said. "A superhero in his own right to Marvel fans around the world, Stan had the power to inspire, to entertain and to connect. The scale of his imagination was only exceeded by the size of his heart."
Filmmaker Kevin Smith posted a photograph of himself and frequent collaborator Jason Mewes beside Lee sitting in a throne. An excerpt from his long tweet read: "This is how I'll always see [you], as our benevolent leader and king, smiling down from your eternal throne on the generations of imaginations you fed and inspired. You were the first creator whose voice I knew before I'd ever actually heard it. You dreamed up some of my favorite modern myths and created characters that instilled in me a moral barometer, teaching me right from wrong and showing me it's always better to be a hero instead of a villain. Your characters represented us: yes, they had extraordinary, unbelievable abilities, but they were also reflections of a world we knew, where a Spider-Man is really just a boy who wants to help."
Actor and comedian Seth Rogen tweeted: "Thank you Stan Lee for making people who feel different realize they are special."
"It's impossible to overstate Stan's influence on popular culture," said Alan Horn, chairman of The Walt Disney Studios. "I was able to get to know Stan over these past several years through his work with Marvel Studios, and was always impressed by his irrepressible energy and vitality. We've lost a true creator. My thoughts are with his family and friends during this difficult time."
"Stan Lee was a real-life superhero whose characters and creations gave voice to many by showing them that their differences were, in fact, their super strength," said Paramount Pictures chairman and CEO Jim Gianopulos. "His indelible legacy will live on for generations to come."
Tom Rothman, chairman of Sony Pictures entertainment's motion picture group, said: "Original and genius are two very overused words in the world today, but Stan was both. Add irrepressible and irreplaceable, and you begin to describe the man. We have all lost a true superhero. We will greatly miss our friendly neighbourhood Stan Lee."
Sony Pictures releases the feature animation Spider-Man: Into The Spider-Verse on December 14 in North America, the UK, Australia, France and other key territories on the weekend of December 14. Lee has an executive producer credit on the production.
More to follow…