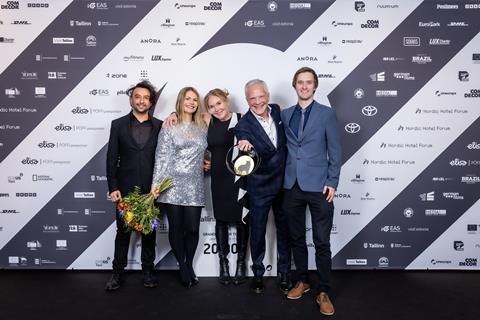 Hilmar Oddsson's Icelandic dark comedy Driving Mum won the Grand Prix for best film in Competition at the award ceremony of the 26th Tallinn Black Nights Film Festival (PÖFF), held on Saturday, November 26.
The Official Selection jury, headed by Hungarian director Ildiko Enyedi, said Driving Mum "charmed us all with its transparent, simple but bold film language, with its graceful sense of humour, with its unpretentious way of speaking about burning questions of personal life. A film which tells us that it is never too late."
Scroll down for the full list of PÖFF 2022 winners
Oddsson's film follows a man whose mother dies, so he takes her on a road trip to fulfill her final wish, with a dog joining for company. It is a seventh feature for Oddsson, and first since 2009's December. Tonu Korvits also received the best original score award for Driving Mum.
Ahmad Bahrami won the best director award at PÖFF for Iranian drama The Wastetown, about a woman temporarily released from a 10-year prison sentence for killing her husband, who goes looking for the son that was taken away from her.
The film shares narrative points with fellow Competition title Cold As Marble, which won best actor for Gurban Ismailov as a father released from a 10-year prison sentence for killing his wife, and whose son wants to find out why he did it.
Chile's Antonia Zegers received the best actress award for Chilean-Mexican-Argentinian co-production The Punishment, in which a child is reprimanded then disappears from his parents' sight in a haunted forest. The jury stated that Zegers, who has credits including Pablo Larrain's The Club and Sebastian Lelio's A Fantastic Woman, "carries [The Punishment] on her able shoulders."
First Feature
In the First Feature competition, jury president Sebastian Meise awarded three prizes. Best film went to Swiss-Kosovar title The Land Within, by Kosovo-born Swiss director Fisnik Maxville. It is a thriller in which the exhumation of a mass grave in a village makes secrets from the past emerge along with the bodies; the cast includes rising Kosovar-French star Luana Bajrami, who has credits including Portrait Of A Lady On Fire.
First Feature special jury prizes went to Filip Herakovic's Pelican and Siddharth Chauhan's Amar Colony.
The Baltic Competition jury, headed by former Israel Film Fund chief Katriel Schory, awarded the main prize to Giedrius Tamosevicius and Vytautas V. Landsbergis' Lithuanian feature Poet; while the best film in the new Critics' Picks section was Jun Robles Lana's micro-budget Filipino feature About Us But Not About Us.
Earlier this week Industry@Tallinn & Baltic Event named its industry winners, with prizes for Michal Marczak's in-development black comedy Certainly The End Of Something and Ruslan Batytskyi's Ukrainian project Blindsight.
The 17-day 2022 edition of PÖFF closes today (November 27).
Tallinn Black Nights Film Festival 2022 winners
Official Selection Competition
Grand Prix for best film – Driving Mum (Ice) dir. Hilmar Oddsson
Best director – Ahmad Bahrami, The Wastetown
Best cinematography – Adrian Teijido, River Of Desire
Best script – Shahar Rozen, Dudu Busi, DUCKS – An Urban Legend
Best actor – Gurban Ismailov, Cold As Marble
Best actress – Antonia Zegers, The Punishment
Best original score – Tonu Korvits, Driving Mum
Best production design – Michael Schindlmeier, Servus Papa, See You In Hell
First Feature Competition
Best first feature film – The Land Within (Switz-Kos) dir. Fisnik Maxville
Special jury prize – Pelican (Cro) dir. Filip Herakovic; Amar Colony (India) dir. Siddharth Chauhan
Baltic Competition
Best Baltic feature film – Poet (Lith) dirs. Giedrius Tamosevicius, Vytautas V. Landsbergis
Best Baltic producer for co-production – Inna Sahakyan, Aurora's Sunrise
Rebels With A Cause Competition
Rebels With A Cause Award – Rebelión (Col-Arg) dir. Jose Luis Rugeles
Special mention – Three Thousand Numbered Pieces (Hun) dir. Adam Csaszi
Critics Picks Competition
Critics' Picks award – About Us But Not About Us (Phi) dir. Jun Robles Lana
Special mention – The Bone Breakers (It) dir. Vincenzo Pirrotta
Fipresci prize – Upon Entry (Sp) dirs. Alejandro Rojas, Juan Sebastian Vasquez
Audience award – Amusia (It) dir. Marescotti Ruspoli