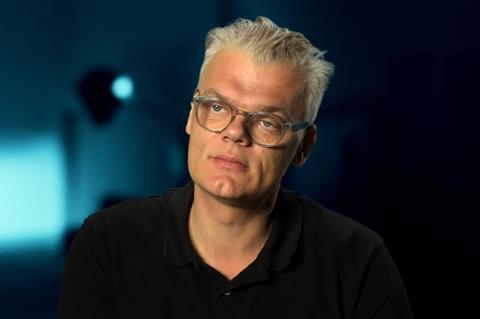 Icelandic filmmaker Árni Ólafur Ásgeirsson has died aged 49 following a short illness.
The filmmaker was finishing his latest feature film Wolka, a Poland-Iceland co-production that is planned for release later in 2021.
The crime drama, produced by Iceland's Sagafilm and Poland's Film Produkcja, is sold internationally by ARRI Media. The story follows a woman who is released from a Polish prison and breaks her parole to try to find a woman in Iceland's Westman Islands.
Ásgeirsson, known in Iceland as Árni Óli, debuted with short film Anna's Day starring Iben Hjejle, which was awarded at Clermont-Ferrand in 2003. His first feature Blood Ties (aka Thicker Than Water) was nominated for the Nordic Council Film Prize and screened at Toronto.
His 2010 film Brim (aka Undercurrent) was also nominated for the Nordic Council Film Prize and screened at festivals including Karlovy Vary, Guadalajara, Göteborg and Moscow. He also directed 2018 family animation Ploey – You'll Never Fly Alone, which was released in dozens of countries around the world.
Born in Reykjavik, Ásgeirsson graduated from Poland's Lodz Film School in 2001. He went on to direct award-wining commercials and co-wrote the script for Robert Douglas's A Man Like Me in 2002.
At the time of his death, Árni Óli was preparing to direct a Polish TV series for Netflix, which he wrote along with Icelandic screenwriter Ottó Geir Borg and others, and was developing animated sequel Ploey 2: Legends Of The Winds.
He is survived by his wife, production designer and set decorator Marta Luiza Macuga, their son Iwo, his mother Hafdís Árnadóttir, and brother Ingólfur Ásgeirsson.
Hilmar Sigurðsson, CEO of production company Sagafilm and a producer of Wolka, said he was "devastated" by the news. "Arni's warmth and humour took over every room and there was always a funny story or two to be shared, but at work he was determined and professional throughout," he said.
"It is very sad that Árni did not live to see [Wolka] on the silver screen. On the day of him passing away, we were downloading the final master of the film from the lab. We will honour his name by doing our utmost to bring the film to the world… and he will live on through his films."
Asgrímur Sverrisson, an Icelandic filmmaker and historian who recently interviewed Ásgeirsson for a RUV TV series about Icelandic filmmaking, told Screen: "Árni Óli was the kind of person who makes an immediate strong impression upon you. We first met 25 years ago and I was inspired by the intelligence, wit and energy of this young man who clearly was going places.
"His first shorts showed strong promise and his debut feature, Blóðbönd (Thicker Than Water) is an elegant, beautiful piece of cinema. A new film from Árni Óli was always eagerly expected. He was always a pleasure to meet, full of ideas and a sense of humour. He will be sorely missed."
Laufey Guðjónsdóttir, director of the Icelandic Film Centre, said: "He was very talented and his films, diverse in subjects, always touch a human string. He was a lovely person, always ready for a positive and constructive dialogue on films and the business and thus highly respected by all who worked with him."