Kristian Levring's Western received its world premiere at this year's Cannes Film Festival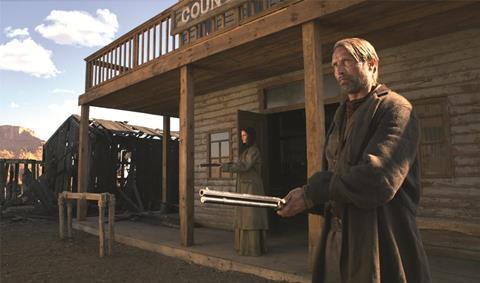 IFC Films has acquired North American rights from TrustNordisk to Kristian Levring's Western The Salvation.
The deal was negotiated by TrustNordisk head of sales Susan Wendt and Sundance Selects/IFC Films svp of acquistion Arianna Bocco. TrustNordisk is handling all international sales.
Previously announced deals on the film include Benelux (Wild Bunch), Australia/New Zealand (Madman Entertainment), France (Chrysalis/Jour2Fete), Greece (Hollywood Entertainment) and Estonia (Estin Film).
IFC Films is a sister label to IFC Midnight and Sundance Selects, and is owned and operated by AMC Networks.
The Salvation, with a screenplay by Levring and Anders Thomas Jensen, stars Mads Mikkelsen, Eva Green and Jeffrey Dean Morgan. It was produced by Sisse Graum Jørgensen, and executive produced by Peter Aalbæk Jensen and Peter Garde.
The film made its world premiere at this year's Cannes Film Festival in the Out of Competition Midnight section.
Set in 1870s America, the film kicks off when a settler named Jon kills his family's murderer, which unleashes the fury of notorious gang leader Delarue. Betrayed by his corrupt and cowardly community, the peaceful pioneer must turn vengeful hunter, slay the outlaws, and cleanse the town's black heart.