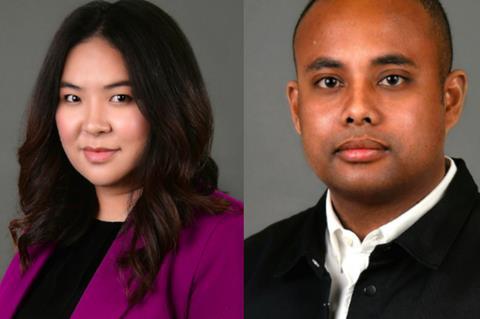 IMAX Entertainment president Megan Colligan has announced two new senior executives as she seeks to grow the company's global content strategy.
Mo Rhim and James Toney both join as senior vice-president in newly created roles where they will oversee content strategy, partnerships and innovation for the IMAX Entertainment division.
Rhim most recently served as senior vice-president, international digital marketing at Paramount. She worked across regional and territory offices on all international theatrical releases, developing digital strategies and operational frameworks, and leveraging her expertise in data and marketing technology. Prior to that she spent 11 years at Google.
Toney worked at 21st Century Fox, most recently as senior vice-president of technology and innovation for 21st Century Fox, where he spearheaded initiatives focused on big data, and leveraged AI to enhance the creative process. Prior to Fox he co-founded and served as chief strategist at creative agency Sew, and led brand, marketing, technology, and strategy projects for brands including Verizon, Ford, Gap, and Pernod Ricard.
At IMAX, the new hires will focus on strengthening the company's core business through creative partnerships and programming, explore ways to enhance direct relationship with consumers, and apply data and insights to drive growth. They report directly to Colligan, president of IMAX Entertainment and executive vice-president of IMAX Corp.
"As audiences drive record box office across IMAX theatres worldwide, artists throughout culture increasingly want to leverage our platform to create new, immersive experiences for their fans," said Colligan. "Mo and James each bring a deep understanding of the intersection of entertainment and technology and a strong vision for the way our creative partners can harness the power of IMAX."