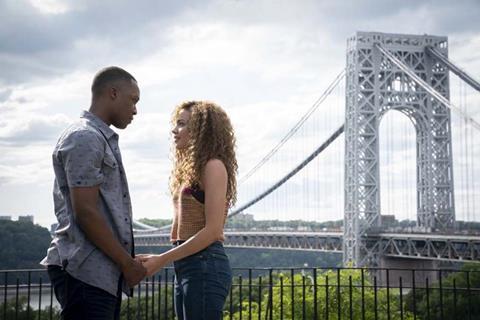 The 20th Tribeca Film Festival will open on June 9 in New York with the world premiere of In The Heights, the musical created by Lin-Manuel Miranda and directed by Jon M. Chu.
The film will screen simultaneously at outdoor venues across all five New York boroughs, with the premiere hosted from the United Palace in Washington Heights where the film is set.
The 2021 edition of the festival will run from June 9-20, and is the first major North American film festival to take place physically since the Covid-19 pandemic began.
It will also form part of NY PopsUp, an initiative to bring live entertainment and arts back to the New York community.
The film centres on bodega owner Usnavi (Anthony Ramos), who hopes, imagines and sings about a better life.
Quiara Alegría Hudes adapted the screenplay; the original songs and lyrics are by Miranda, who previously created hit musical Hamilton. The pair are also producers alongside Scott Sanders, Anthony Bregman and Mara Jacobs.
Warner Bros Pictures will release the film in cinemas and on HBO Max in the US on June 11; it will be available on the streaming platform for 31 days from the initial theatrical release.
It is currently scheduled for a June 18 release in the UK and Ireland, also through Warner Bros.
The 20th anniversary edition of Tribeca will make use of iconic outdoor sites across New York, where festival-goers will be able to gather and celebrate programming from across the arts in a safe manner. It will also host community screenings in New York City borough via a travelling 40-foot LED mobile cinema.
"In the Heights is the quintessential New York story of hard-work, resilience, and triumph. We are proud to feature this film as opening night where it can debut in its hometown in celebration of its New York roots and the Latinx community," said Jane Rosenthal, co-founder and CEO of Tribeca Enterprises and the Tribeca Festival.
Further films, including the closing night film, will be announced in due course.