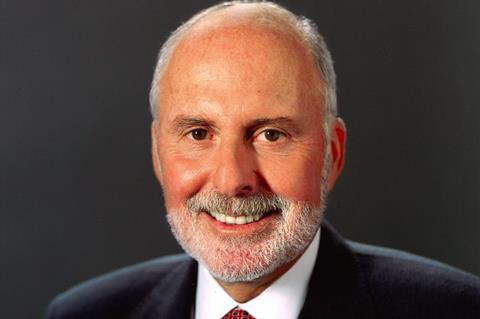 Friends and associates of Michael Lynne have paid tribute to the former New Line co-chairman, whose memorial service takes place in New York on Thursday (28).
Victor Hadida of French powerhouse Metropolitan Filmexport called Lynne "the consummate businessman" who along with partner Bob Shaye "created the concept of franchise event pictures", while Nigel Green of the UK's Entertainment Film Distributors paid respect to a "wise, kind, loyal and supportive" partner.
Brooklyn-born Lynne died aged 77 following a short illness. The former attorney joined New Line after he ran into his old Columbia Law School friend and company founder Bob Shaye in the 1980s in New York.
Lynne was retained as outside counsel before he was named president and COO in 1990, and then co-chairman and co-CEO in 2001. Together, Lynne and Shaye established a pipeline of culturally relevant films such as the Oscar-winning hit Lord Of The Rings trilogy, the Austin Powers and Rush Hour films, and Boogie Nights, and set up a pioneering international output network.
"Michael was the consummate businessman – intelligent, strategic, gentle in personal manner with a great sense of humour, and yet universally respected for his assertiveness in commercial deals," said Hadida. "He and Bob made the ideal partnership, and led New Line to successes that will likely remain for all time the pinnacle of independent film distribution.
"Lord Of The Rings was and likely always will be the ultimate adventure in our film business and undoubtedly the most renowned in the history of independent film distribution. New Line indeed created the concept of franchise event pictures released globally at the same time, and remains the source of much success for WarnerMedia."
Hadida continued: "Michael, along with Bob, was a great mentor for shepherding young talent and always supportive of those on their team. We remember so well the early days of Michael de Luca, Carolyn Blackwood, Camela Galano, and Toby Emmerich to name just a few, and the camaraderie that Michael and Bob always fostered.
"Michael and Bob were so thrilled, indeed humbled, when they were bestowed in Cannes with France's distinguished Chevalier des Arts et des Lettres, presented by the current president of ARTE. That was a very special moment for all of us. I respected Michael as a visionary businessman who educated independent distributors to the studio world, and led us into being valued partners of the mini-studio that he and Bob created. I cannot think about Bob, or New Line, without Michael. I also considered him a friend, and even after his New Line days there was no trip to Paris when he was not calling us to have a great lunch or dinner."
Green said, "Michael was a true gentleman in every sense of the word. Throughout our many years of partnership with New Line he was always wise, kind, loyal and supportive. He and Bob made the perfect team and he will be very much missed."
Galano, who served as president of New Line International Releasing from 2001, said: "I am devastated. He was incredibly important to me. He was so supportive and such a mentor for me, particularly as a woman – I was one of the few female executives in that space at the time. I owe my entire career to him and Bob Shaye. I thought the world of Michael."
Shaye noted, "He joined me in my earliest fumbling days and helped a lot with the administration, financials, and creative guidance. We were both business guys who loved movies. The international side was a huge element of New Line's financial structure. Michael helped me set it up and structured the banking relationships.
"He was a great person to spend time with. He was genial and smart and gracious and understanding – all the things you want from a partner. It was the halcyon days when he was with the company. His work was invaluable, as were his companionship, his sense of humour, and his criticism. He was a great guy and this is an unbelievable shock for us."
IMAX CEO Rich Gelfond said, "It is with great sadness that IMAX learned of the passing of Michael Lynne. Michael was much more than a great director of IMAX. He was a great friend to us all, a source of inspiration and generously shared his wisdom and values. We will miss him greatly." Lynne served on IMAX's board since July 2013.