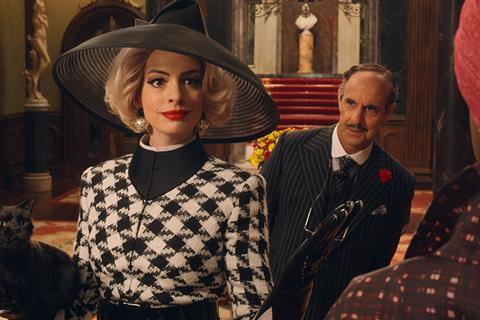 'The Witches' debuts with $4.8m
Robert Zemeckis's film version of Roald Dahl's The Witches began its international run on Halloween weekend, following its October 22 premiere on HBO Max in the US. The Warner Bros comedy fantasy – which is co-written by Zemeckis, Black-ish creator Kenya Barris and Guillermo Del Toro, and stars Anne Hathaway, Octavia Spencer and Stanley Tucci – debuted with an estimated $4.8m from 17 markets.
Top-performing territory was Russia/CIS with $1.6m, with Mexico second with $823,000. Germany ($482,000), Saudi Arabia ($466,000) and Spain ($390,000) round out the top five territories for The Witches. In Mexico, the film delivered the territory's biggest post-Covid opening to date.
The film – which is the second film version of Dahl's children's fantasy novel after Nicolas Roeg's 1990 adaptation starring Anjelica Huston – landed as cinemas were closing or about to close in several key European countries. Venues were ordered closed in Italy and France last week, and they are shuttered in Germany from today (November 2).
In the UK, The Witches premiered on October 26 on premium VoD via platforms such as Apple TV, Amazon, Sky Store, Microsoft, Talk Talk and Rakuten TV – priced at £15.99 for a 48-hour rental. This coming weekend, The Witches arrives in nine new markets, including Singapore, Taiwan and Thailand.
'Demon Slayer' passes $150m in Japan
Japanese anime Demon Slayer The Movie: Mugen Train delivered a robust third session in Japan for joint distributors Toho and Aniplex – an estimated $24m for the official weekend period (which is just Saturday and Sunday in Japan), down from $29m for the same two-day period the previous week. The manga adaptation has pushed past the $150m barrier after 17 days.
At IMAX cinemas, Mugen Train (aka Infinity Train) dropped just 11%, for third-weekend takings of $1.84m from 38 sites, an average of $48,000. Over its three weeks of release so far, the film has delivered successively the biggest, second biggest and fourth biggest weekend hauls for IMAX in Japan. (The opening session of Star Wars: The Rise Of Skywalker is in third place.)
The film is adapted from Koyoharu Gotoge manga Demon Slayer: Kimetsu No Yaiba, and is directed by Haruo Sotozaki.
In 2019, the top film at the Japan box office was Makoto Shinkai's anime Weathering With You with $132m. Demon Slayer is already past that total, and is among the top 10 highest-grossing films of all time in Japan – a list led by Studio Ghibli's Spirited Away with 30.bn¥ ($290m at current exchange rates).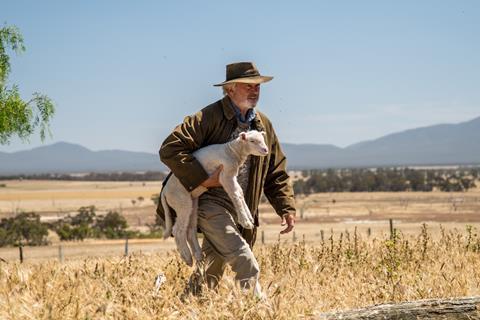 'Rams' powers to top spot in Australia
Rams, a local remake of Icelandic director Grimur Hakonarson's 2015 hit, has debuted top of the Australia box office with a solid Aus$810,000 ($570,000) from 253 cinemas for distributor Roadshow. Sam Neill and Michael Caton star as two warring sheep-farming brothers in Western Australia, and the film also stars Miranda Richardson. Jeremy Sims (Last Cab To Darwin) directs.
Liam Neeson crime thriller Honest Thief, which topped the Australia box office the previous weekend for distributor Rialto, falls to second place – with Aus$511,00 ($359,000) and a total after two weekends of play of Aus$1.43m ($1.01m).
In New Zealand, Honest Thief stayed top, with second-weekend takings of NZ$142,000 ($94,000) for Rialto, and a total of NZ$394,000 ($261,000).
'Tenet' closes in on $350m worldwide
Christopher Nolan's Tenet grossed an estimated $2.4m in its tenth session internationally, down from $3.4m for the previous weekend. International cumulative total for the Warner Bros release is now an estimated $293m, and the global tally (including North America) is $347m. IMAX screens account for $32.7m internationally – ie 11% of the total.
A new opening in Brazil saw the film top the box office chart in the Covid-afflicted territory, with $277,000 from 1,000 cinemas. Today (November 2) is a national holiday in Brazil, and Warner Bros expects the film to play strongly.
Tenet's strongest holds at the weekend were in Germany, down 11%, and South Korea, down 13%. News that German cinemas are closing from today may have concentrated minds among Nolan fans who had yet to see Tenet. There are still 18 territories to release the film, including Argentina, India, Indonesia and the Philippines.
'Greenland' holds top spot in Germany, opens top in Austria
Gerard Butler action thriller Greenland enjoyed what will be a last hurrah at the German box office – at least until cinemas reopen there. Box office for the title, distributed in Germany by Tobis, rose 22% to $1.10m for the weekend period – holding on to the top spot. Total after 10 days is $2.21m.
Greenland opened in Austria at the weekend, topping the chart with an estimated $213,000 including previews. Greenland's international weekend total was an estimated $1.77m, bringing the cumulative total to $36.2m. The film is set to release in North America through STX Entertainment via premium VoD on December 18, and then play on HBO Max.
'Yakari' leads new releases in Germany
Although opening behind Greenland, the Leonine-distributed Yakari saw off the challenge from rival new releases such as Warner Bros International's The Witches with a second-place debut. Adapted from the French-Belgian comic series by Derib & Job (aka André Jobin and Claude de Ribeaupierre), the film – also known as Yakari: A Spectacular Journey – began with $782,000 from 583 cinemas.
The autumn half-term holiday saw two more family films in third and fourth place – Jim Button And The Wild 13 in its fifth week of release and Dragon Rider in its third – with The Witches in fifth. Studiocanal comedy Es Is Tzu Deneim Basten and family literary adaptation The Secret Garden came sixth and seventh. Tenet, now in its tenth week of release, was eighth, one place ahead of new entry And Tomorrow The Entire World for Alamode Film. Julia Heinz's political drama was last week selected as Germany's candidate in the International Film category of the 2021 Oscars. NeueVisionen's La Daronne (aka Mama Weed), starring Isabelle Huppert, rounds out the German Top 10.