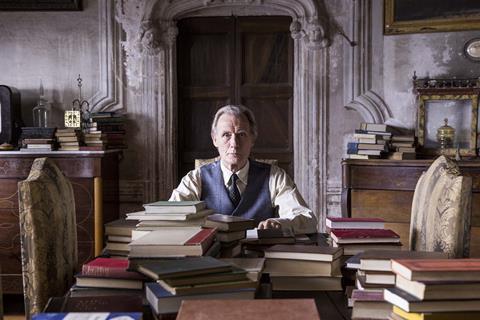 Isabel Coixet's Goya-winning The Bookshop that just received its international premiere in Berlinale Special has sparked a raft of deals at the EFM.
Celsius Entertainment has licensed rights for Italy (Movies Inspired), Hungary (Cirko Film) Argentina, Paraguay, Uruguay, and Chile (CDI Films), Colombia (Cine Colombia), and Iceland (Samfilm).
Screen understands final negotiations are in progress for the US, and talks are ongoing for Canada, Scandinavia, Poland, and China.
The Bookshop, which stars Emily Mortimer as a woman who causes a stir in a late 1950s English town when she opens a store, went to Portugal (Outsider Films) and Israel (Forum) shortly before the EFM.
Celsius previously licensed a slew of territories including the UK (Vertigo), Germany (Capelight), Australia (Transmission), Benelux (Cineart), Japan (Digital Works), Switzerland (Filmcoopi), Turkey (Filmarti), and Romania (Odeon).
Referring to the determination of Mortimer's character in The Bookshop, Coixet drew a parellel between the world of books and told Screen it was imperative to defy the odds. "I have never made an autobiographical film," she said, "but I identify myself so much with her."
The Spanish writer-director revealed fresh details about her upcoming, as-yet-untitled HBO series, which will shoot in Spanish as soon as she completes her next feature Elisa And Marcela for Rodar y Rodar, La Nube, Zenit Producciones, and Netflix.
"The project I'm developing for HBO is based on a script of mine, a love story, something that makes sense to tell in 30-minute episodes," the Spanish writer-director said.
Elisa And Marcela shoots in spring in Spain and is based on the true story of two women in Galicia who get married in 1901 after one of them disguises herself as a man. Natalia de Molina has already signed on.
"It's a beautiful love story that also challenges society's rules," Coixet said. "These women and what happened to them is well documented and it's fascinating. When people found out about them they were persecuted, had to flee and were also put in prison."
Turning to the subject of the #MeToo movement, the politically outspoken Coixet said: "What gives me most hope about is to see how girls in Iran hang their head scarves on trees in protest saying #MeToo.
"In film festivals we can change the colour of the red carpet – it's an interesting way to protest too, of course – but movements accomplish change when people take risks to charge against the pillars that sustain discrimination in society, like these girls. I admire them."
Asked if, in the wake of #MeToo, she perceived tangible changes within the industry as a woman director – notably the first in Spain to have won two best picture Goya awards for The Secret Life Of Words and The Bookshop – Coixet said: "Things are changing. I now see men talking openly about this.
"A lot of women have told me that #MeToo and all the claims that come with it, [especially related to] salary equity, have triggered talks at the workplace, within the family, that they would have never had in the past."