Assi (Assaf) Dayan, one of Israel's best known and highly regarded actors, writers and directors, died this morning in Tel Aviv at the age of 68.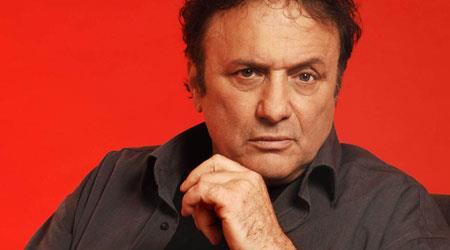 Son to the country's most famous soldier, Moshe Dayan, whose shadow obsessed him all his life, he had been plagued for many years by bad health and addictions, his condition largely advertised by himself in interviews and documentaries in which he often complained of being mistreated and insufficiently supported by the country's cultural authorities.
First introduced to films aged 22 when he played a small part in Michael Kakoyannis The Day the Fish Came out (1967), he appeared to be heading for a great career in acting after taking the lead in John Huston's A Walk with Love and Death (1969), opposite the director's own daughter, Anjelica.
Though personal problems as well as the reticence of insurance companies to assume responsibility for the son of Israel's Ministry of Defense hampered the option of international stardom, he quickly became one of the favourite young leads in Israeli cinema, with occasional bouts abroad, such as his part in Jules Dassin's Promise at Dawn (1970).
A moody and often gloomy celebrity as well as a fast, brilliant but erratic writer, Dayan moved to the other side of the camera with Hazmana La'Retzach (Invitation to Murder) (1973) an early attempt at making an Israeli film noir, followed by Hagiga La"Eynayim (A Feast for the Eyes), in which he vented his constant obsession with death, that was to follow him all through the rest of his life.
The story of a poet whose planned suicide turns into a touted media event for the Godforsaken village where he planned to put an end to his life, the picture's macabre sense of humor and biting social comments suggested Dayan was far more than just another pretty face with a famous pedigree.
Eager for larger public recognition, he launched into a series of local, often quite vulgar, ethnic comedies, less than admired by critics at the time, but reaching later a cult status with the younger generation, among them Giv'at Halfon eina Ona (No answer from Halfon Hill) (1976) and Schlager (1979).
Constantly rebelling against being branded as a commercial director of no ambition, he finally came out with one of the most bitter, angry and outspoken indictments of Israel and its policies in Life According to Agfa (1992), in which a downtown Tel Aviv bar turns into a microcosm of a fiercely self-destructive, militarist society.
Alternating between acting and directing, his films sometimes looked like personal experiments with no interest for wider audiences, but was invited to the Berlinale competition with his Mr. Baum (1997), yet another flirt with death in which a businessman is told he has only 90 minutes to live (the film's running time).
As an actor, however, his ravaged physique served him well in recent years for seasoned, remarkably perceptive performances in such films as Campfire (2004) and Hufshat Kayitz (My Father My Lord) (2007).
While his health prevented any kind of strenuous efforts, his camera presence was astounding, as confirmed in the part of the world-weary shrink, a role he originated in the most successful Israeli TV series ever, BeTipul (In Treatment) (2005). The format was later picked up and turned into a worldwide sensation in numerous languages, featuring the likes of Gabriel Byrne, who played the lead in the US version.
Dayan's last feature film, Dr. Pomeranz (2011) typically rounded up his film-making career with a sardonic satire about a washed-out shrink who turns out a neat profit by renting his 12th floor flat for anyone interested to jump off his balcony.
He was preparing autobiographical feature My Life and Other Lies, in which he intended to reveal even more of his personal record than whatever his films had already implied before.