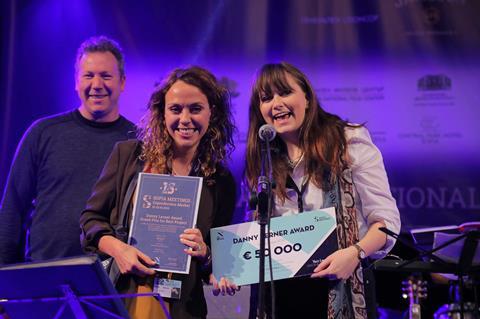 Dublin-based Italian writer-director Nathalie Biancheri's second feature film project Wolf was awarded the Danny Lerner Grand Prix for best international project at the 15th edition of the Sofia Meetings co-production market this weekend.
The Nu Boyana Film Studios' CEO Yariv Lerner handed over a prize of €50,000 in services and a cheque for €5,000 to Biancheri and her producer Jessie Fisk for what the director describes as "a high concept, absurdist arthouse drama".
Budgeted at €1.2m, Wolf is set to be the first project to go into production by Fisk's production company Feline Films.
This year saw Nu Boyana also presenting a second Grand Prix to Bulgarian feature The Trojan Crisis, produced by Agitprop with Francois Nouguies as director.
Other awards include the Cinelab Romania award of €25,000 in postproduction services for Russian director Andrey Gryazev's second feature March.April.May, co-written with Loveless and Leviathan screenwriter Oleg Negin.
Producer Vlad Ketkovich of Moscow-based Ethnoscope said that the €500,000 project had initially been conceived as a documentary but the concept changed after Negin came onboard. He is looking for Polish and Dutch partners.
Hungary's Focusfox Studio offered €10,000 in postproduction services to Bosnian filmmaker Ado Hasanovic's debut feature Ja Sam Ana which is being produced by Italy's Massimo D'orzi of Il Gigante.
Yapimlab's Young Producer Award went to the Spanish director-producer team of Meritxell Colell and Belén Sánchez for Dúo, about the relationship of two contemporary dance choreographers touring through isolated villages in the Andes.
Romanian filmmaker Vladimir Dembinski and producer Bogdan Craciun of Libra Film Productions received the Mediterranean Film Institute's scholarship to attend its script workshops for the screenplay of Dembinski's debut, Crissea IV.
A total of 36 projects were presented in this year's line-up of the Sofia Meetings co-production market, including new features by Nadejda Koseva (Beggar), Dusan Milic (Darkling), Stephan Komanderev (Patrol Cars) and Sharon bar Ziv (The Jewish Girl) and the second showcase of films developed within the First Films First initiative.
In addition, Argentinian-based screenwriter Sacha Amaral pitched his first project as a director – The Pleasure Is All Mine – to be produced by Sao Paulo-based Tomás Cohen of Ritmo Visual Filmes.
Amaral had previously co-written the screenplay for Vladimir Durán's So Long Enthusiasm which had its world premiere in the Berlinale's Forum in 2017.
Sofia International Film Festival
Ilian Metev's ofia International Film Festival was the 2018 winner of the 'Sofia City of Film' Grand Prix for best film at the 22nd edition of the Sofia International Film Festival's (SIFF), which came to an end last night (Mar 19).
Ilian Metev's 3/4 was the 2018 winner of the 'Sofia City of Film' Grand Prix for best film at the 22nd edition of the Sofia International Film Festival's (SIFF), which came to an end last night (Mar 19).
This is the fourth year in a row that a local Bulgarian film has won the Grand Prix at SIFF's International Competition for first and second films, following The Lesson in 2015, Zhaleika in 2016, and Godless in 2017.
3/4 also received the award for best Bulgarian feature film from a jury made up of festival programmers Lenka Tyrpakova, Elma Tataragic and Roberto Cueto.
Bulgarian films were also among the night's other prize-winners: the FIPRESCI jury's award and Bulgarian Guild of Film Critics award went to Ilian Djevelekov's Omnipresent. The award for best documentary was presented to Eldora Traykova for Miniature For Piano, while the Domaine Boyar award for best Balkan film was picked up by Victor Bojinov's Bulgarian-Macedonian co-production Heights.
The international jury, headed up by Golden Bear winner Ildiko Enyedi and including programme consultant Claudia Landsberger and filmmakers George Ovashvili and Ralitza Petrova, gave their special jury award to Genesis by Hungary's Arpad Bogdán and the best director award to Turkey's Banu Sivaci for The Pigeon, with a special mention for Iranian filmmaker Mohsen Gharfaei's Blockage.
The awards ceremony was attended by European Commissioner for Digital Economy and Society, Bulgarian-born Mariya Gabriel, who came on stage to present the audience award to Bulgarian-Polish co-production Radiogram by Rouzie Hassanova. She used the platform to reiterate her support for the Creative Europe's MEDIA Programme in the future.
The 2018 edition of SIFF presented a total of 207 films from 54 countries and also provided the backdrop for the presentation of the Sofia Award of the Sofia Municipality for contribution to world cinema to the directors Abel Ferrara and Roman Balayan and local Bulgarian actor Vasil Mihaylov.