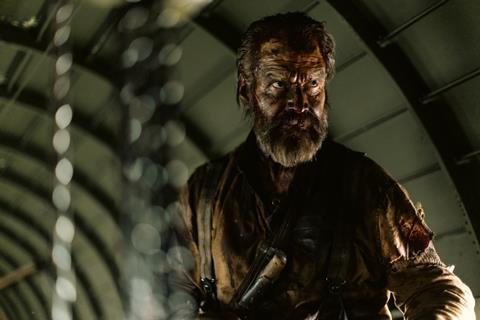 Finnish production Sisu directed by Jalmari Helander took the main award at the 55th edition of Sitges, marking the director's second time winning the prestigious Catalan genre event's best feature award after his 2010 selection Rare Exports: A Christmas Tale.
Helander's third feature also earned best actor at Europe's biggest genre film festival for Jorma Tommila, cinematography for Kjell Lagerroos, and music for Juri Seppä and Tuomas Wäinölä. Handled by Sony Pictures Worldwide Acquisitions (excluding Nordics), the Second World War survival thriller follows a former soldier (Tommila) who discovers gold in the remote Finnish hinterland and must protect his booty from Nazis. Helander's regular collaborator Petri Jokiranta of Subzero Film Entertainment served as producer.
Ti West's Pearl garnered the best director prize as well as best actress for Mia Goth. It is the prequel to X, the slasher feature which kicked off West's horror franchise (a third film, MaXXXine, has been announced) at SXSW earlier this year. A24 Films handles international sales.
South Korean action thriller Project Wolf Hunting, which has earned $3.3m in three weeks in its home country, took the special jury prize. Finecut sold Kim Hong-sun's (series Son: The Guest) film in Asia, Europe and the US before it received its world premiere in Toronto's Midnight Madness sidebar.
The best screenplay prize went to the inimitable Quentin Dupieux for Smoking Causes Coughing. In a waggish move by the jury, Dupieux was awarded the prize ex-aequo with himself for his other 2022 film, Incredible But True.
Spanish genre fare showed muscle in a year commemorating the 15th anniversary of Paco Plaza and Jaume Balagueró's [REC], a horror pioneer of international renown. Other Spanish features at Sitges were Carlota Pereda's Piggy (awarded the Méliès d'Or), Carlos Vermut's Manticore, and The Elderly from Raúl Cerezo and Fernando González Gómez.
Mexico's Michelle Garza Cervera won the Blood Window best film award for Huesera and was named best new director in the Jose Luis Guarner Critics' Awards.
Balagueró's new effort Venus opened Sitges and enjoyed another strong reception after TIFF. The film is produced by The Fear Collection, a joint venture between Sony Pictures, Amazon Prime Video and Alex de la Iglesia's Pokeepsie Films. The association has produced three features so far and the next title Anatema, by first-timer Jimina Sabadúwas, was unveiled at the event.
World premieres at the diverse festival showcases included Jon Wright's (Grabbers) horror creature feature Unwelcome (UK) sold by Cornerstone Films; Paul Urkijo's Irati (Sp), an action adventure sold by Filmax and set in the eighth century Pyrenees which took the audience award; Max Seeck and Joonas Pajunen's The Knocking (Fin), a horror fable sold by LevelK; Sean Lahiff's debut Carnifex (Aust), an eco monster feature sold by Arclight Films; and The Serpent And Sister Ophelia produced by Latin America BTF Media and Mexico's Morbido Group, and directed by Madrid-born horror heavyweight Adrián García Bogliano (Here Comes The Devil).
Sitges industry activities, which have been growing in recent years, included pitching platform Sitges FanPitch offering a promising 12-strong line-up comprising seven features and series.
Joseph Díaz's Bloody Mary (Sp), Michele Fiascaris's Rain Catcher (UK), Lola Basara and Marc Schlegel's Krampusnacht (Aus) won the feature prizes. The TV show grant went to Super-Over (Sp) created by Ainhoa Menéndez. Representatives from XYZ Films, Yellow Veil Pictures and Blue Underground were among those who attended the event.
Halina Reijn's second feature, the horror-comedy Bodies Bodies Bodies, closed Sitges on Saturday (October 15).
Select Sitges winners
Film
Sisu (Fin)
Dir. Jalmari Helander
Director
Ti West (Pearl, USA-Can)
Special Jury Award
Project Wolf Hunting (S Kor)
Actress
Mia Goth (Pearl)
Actor
Jorma Tommila (Sisu)
Screenplay (ex-aequo)
Incredible But True (Quentin Dupieux, Fr-Bel)
Smoking Causes Coughing (Quentin Dupieux, Fr)
Cinematography
Kjell Lagerroos (Sisu)
Effects (ex-aequo)
Hatching (Fin)
Irati (Sp-Fr)
Music
Juri Seppä and Tuomas Wäinölä (Sisu, Fin)
New Visions
Film
Jerk (Fr)
Dir. Gisèle Vienne
Director
Martika Ramirez Escobar (Leonor Will Never Die, Phil)
Short
Flashback Before Death (Jap)
Dirs. Rii Ishihara, Hiroyuki Onogawa
Blood Window
Film

Huesera (Mex-Per)
Dir. Michelle Garza Cervera
Animation Awards
Feature
The Other Shape (Col)
Dir. Diego Guzmán
Short

Ecorchée (Fr)
Dir. Joaquim Herisse
Orbita Award
H4Z4RD (Bel)
Dir. Jonas Govaerts
Méliès d'Or
Piggy (Sp-Fr)
Dir. Carlota Pereda
Méliès dÀrgent
Nightsiren (Slo-Czech)
Dir. Tereza Nvotová
Jose Luis Guarner Critics' Awards
Film
Something In The Dirt (USA)
Dir. Aaron Moorhead & Justin Benson
New Director
Michelle Garza Cervera
Audience Award
Irati (Sp)
Paul Urkijo.