Two-time Oscar winner Adam was the first production designer to receive a knighthood.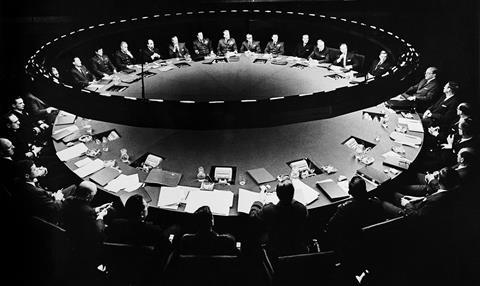 Sir Ken Adam, the two-time Oscar winning production designer known for his work on James Bond films of the 1960s and 70s, died Thursday [10 March] at his home in London.
In addition to his work on Bond films including Goldfinger, The Spy Who Loved Me and Moonraker, Adam was highly regarded for his iconic production design in Stanley Kubrick's Dr. Strangelove. Director Steven Spielberg described the film's 'War Room' as the best film set ever built.
He was also known for designing the original car for 1968 musical Chitty Chitty Bang Bang [pictured below].
Adam won his first Oscar in 1976 for his work on Kubrick's Barry Lyndon, and his second in 1995 for Nicholas Hytner's The Madness Of King George. He received three additional nominations for Around The World In 80 Days, The Spy Who Loved Me, and Addams Family Values.
Adam was born in 1921 in Berlin, but was forced to flee Germany with his Jewish family as a teenager. He later became one of the few people with a German passport to serve in the RAF during the second World War.
His biographer Sir Christopher Frayling told the BBC: "He was a brilliant visualiser of worlds we will never be able to visit ourselves - the War Room under the Pentagon in Dr. Strangelove, the interior of Fort Knox in Goldfinger - all sorts of interiors which, as members of the public, we are never going to get to see, but he created an image of them that was more real than real itself."