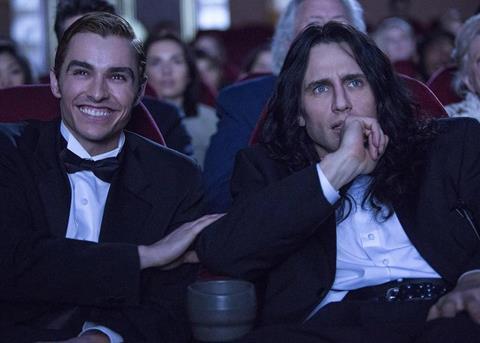 The fate of the international release of The Disaster Artist has come under the spotlight after five women accused Golden Globe winner James Franco of inappropriate or sexually exploitative conduct.
The accusations ran in an article in the Los Angeles Times on Thursday (January 11), days after Franco told Late Show host Stephen Colbert that earlier accusations were "not accurate" and followed that up with an apearance on Late Night With Seth Meyers on Wednesday in which he said he wanted to let people with allegations speak out.
The Disaster Artist is winding down in North American theatres, where it has grossed $19.6m through A24 since the December 1 release. The film earned Franco the best actor in a musical or comedy award at Sunday's Golden Globes and the best comedy actor prize at Thursday evening's Critics' Choice Awards (which Franco did not attend), however it would appear an Oscar push has ended as sources said the Academy would likely be monitoring the situation to decide whether the unfolding story will render the film ineligible for consideration. Neither A24 nor the Academy was available for comment.
Of greater urgency is the film's international roll-out through Warner Bros Pictures International, which is in the early stages on $5m. Studio representatives had not returned calls at time of writing to clarify whether the ongoing allegations would impact distribution strategy.
Sarah Tither-Kaplan and four other women spoke to the Times about uncomfortable experiences involving Franco at his film school. The women were either students or regarded Franco as a mentor in their acting careers.
Tither-Kaplan, who tweeted on Sunday in reference to a full nudity scene Franco once asked her to do for $100 a day, spoke of a troubling oral sex simulation during a nude scene she shot with Franco and several other women three years ago. "I feel there was an abuse of power, and there was a culture of exploiting non-celebrity women, and a culture of women being replaceable," she told the Times.
The report said two other women – Hilary Dusome and Natalie Chmie – spoke about bad experiences at Franco's Studio 4 acting school, which he opened in 2014 in association with Playhouse West in North Hollywood, where Franco had trained as an actor.
The former students recalled how the multi-hyphenate actor-writer-director became grouchy when they refused to go topless on a shoot. Katie Ryan took classes at Studio 4 and said Franco made students feel there were roles available if they performed sex acts or removed their shirts, adding that he emailed her numerous times asking her to play a prostitute.
Franco's attorney Michael Plonsker said his client was "not aware that any of the actions alleged by Ms. Ryan ever occurred", and took issue with each allegation and referred the newspaper to the entertainer's comments on Late Show with Stephen Colbert on Tuesday in which he said allegations were "not accurate".
The Times reported that more than a dozen women reported positive experiences at the teaching school, which closed abruptly last autumn.