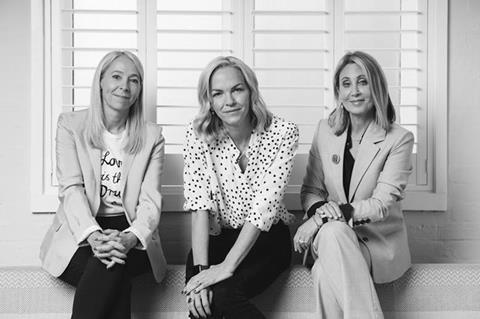 Jane Featherstone, Elisabeth Murdoch, and former 20th Century Fox Film chair Stacey Snider have joined forces to establish a global production and development company operating out of London and Los Angeles.
Each of the trio has co-invested in Sister, which is forged out of the "foundation stone" of Featherstone's independent production outfit Sister Pictures, which recently produced Chernobyl, in which Shine founder Murdoch had a minority stake.
Speaking to Screen's sister publication Broadcast ahead of the company's official launch today, Snider said Sister would be focusing on hiring new staff as the company begins life but will be developing a wide range of content.
"We'll be working on a combination of films, TV shows and SVoD movies," she said. "What's exciting now is that the forms are so fluid, and talent has been expressing their interest in not being pigeon-holed for a long time. It was easy for us to come together and say: we're not going to pigeon-hole you if you don't want to be pigeon-holed."
Sister, which will be corporate headquartered in the UK, aims to resist the temptation to sign overall deals with SVoD giants such as Netflix and Amazon.
"I love working with Netflix, but we cherish our independence too much to do one of those overall deals," Featherstone said. "A key thing from a global point of view is that we will be independent, independently financed and set up to develop in a way that's meaningful for talent. Independence is a rare commodity these days, and we will stand by that and build a business for the long-term."
Lead financier Murdoch, who will serve as Sister's executive chair, said the company's non-affiliation will be an advantage as global mergers and acquisitions activity increases.
"When an industry is consolidating and big behemoths are created, that presents a huge opportunity to have a very fulsome independent and alternative home for talent, writers and creators that would like to have space, care and attention," she said.
"It is an incredibly exciting time right now, but it is a very busy landscape. Likewise, all these buyers out there are also needing very trusted suppliers. Our capacity to sustain that independence is going to set us apart from the field."
Transatlantic structure
Featherstone will be head of Sister London while Snider leads Sister LA and is global chief executive.
Sister London will fully incorporate Sister Pictures' existing team behind its existing shows including forthcoming Amazon series The Power and BBC/Netflix co-production Giri/Haji.
Executive producers Naomi de Pear and Chris Fry and producer Katie Carpenter will segue into Sister London. Dan Isaacs, current Sister Pictures chief operating officer, will also assume this role in the London office.
The trio has insisted, however, that the corporate structure is very flat, with them all "making all the decisions together", according to Snider.
"I've come up through a very traditional studio system, and what was exciting about starting something new was that we could rewrite the rules - there is no traditional siloes or structure," Snider said. "That modern structure was important."
Sister's launch follows Murdoch's minority investment in Siobhan Greene and Denise O'Donoghue's new indie 110% Content.
This story first appeared on Screen's sister publication Broadcast.